ABM Archive Website
THIS WEBSITE CONTAINS ARCHIVE MATERIALS FOR HISTORICAL REFERENCE ONLY
For up-to-date information, including our latest appeals, news, and resources, please visit our current website.
C20 Summit in Melbourne
June 20, 2014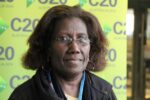 Tagolyn Kabekabe is the Anglican Alliance Pacific Facilitator.
This video (click underlined sentence above) was recorded today, 20th June 2014, at the C20 Summit in Melbourne. Tagolyn is calling for G20 countries to listen to the voices of vulnerable people in the Pacific Islands as they confront climate change.
ABM is working with the Anglican Church in the Solomon Islands, as well as churches in Kenya and the Philippines, to understand and adapt to the impacts of climate change.
Why not join in and find out more about this for yourself. The Anglican Alliance is hosting a webinar (a conference discussion that you can listen to and/or watch on your computer) on Tuesday 24th June, 2014 at 6pm AEST. Follow the link in this paragraph to find out how.
Click here to read ABM's C20 media release or here to download a Word version.