ABM Archive Website
THIS WEBSITE CONTAINS ARCHIVE MATERIALS FOR HISTORICAL REFERENCE ONLY
For up-to-date information, including our latest appeals, news, and resources, please visit our current website.
Cameron Venables ordained as new Assistant Bishop for Southern Queensland
June 30, 2014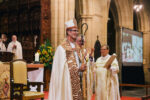 ABM warmly congratulates the Right Reverend Cameron Venables on his ordination as a new Assistant Bishop for the Western Region in the Diocese of Brisbane. The consecration took place at St John's Cathedral on Tuesday 24th June, 2014.
Bishop Cameron has been a long-time friend and supporter of ABM, having served on our Development Committee for many years.
Here is an article taken from the Diocese of Brisbane website (http://anglicanchurchsq.org.au/discover/news-media-releases/289-new-assistant-bishop-for-the-western-region-ordained):

New Assistant Bishop for the Western Region ordained
A priest with an interest in social justice and the environment, and extensive experience in ministering with indigenous, migrant and refugee communities, has been ordained as a new Assistant Bishop for the Anglican Church Southern Queensland.
The Right Reverend Cameron Venables last night ( 24 June) succeeded Bishop Rob Nolan as Bishop for the Western Region at a ceremony at St John's Cathedral in Brisbane.
Based in Toowoomba, Bishop Cameron will serve the rural and remote communities of the Diocese of Brisbane, which extends from Bundaberg to Coolangatta and west to the borders of NSW and South Australia.
A former Archdeacon of Rockhampton, Bishop Cameron is eager to identify local and regional issues, including de-population and pressures on farming communities such as drought, debt and coal seam gas development.
"The Church has a really significant role to play in encouraging community, caring for community and advocating on behalf of community," he said.
"And in the midst of all this affirming the God stuff of love, hope and justice."
The new bishop says he will spend the next 12 months listening to and learning about the communities he serves.
"My plan is to pray for and build relationship with people and communities. I hope to encourage and resource exiting leadership, develop the use of communication technologies, and identify community partnerships," he said.
The Archbishop of Brisbane, The Most Reverend Dr Phillip Aspinall, said Bishop Cameron had significant parish and cross cultural ministry experience, having worked in Papua New Guinea as well as Brisbane, Grafton and Rockhampton dioceses.
"Cameron is committed to the mission of God and seeing that mission expressed in contemporary ways," Dr Aspinall said
"He has a keen interest in social justice, the environment and ministry with young people.
"Cameron is a warm, personable and hospitable person and I am confident that he will exercise wise and energetic ministry, collaborating with the diversity of clergy and lay people who contribute to our life together in Christ."
Photo by Aimee Catt