ABM Archive Website
THIS WEBSITE CONTAINS ARCHIVE MATERIALS FOR HISTORICAL REFERENCE ONLY
For up-to-date information, including our latest appeals, news, and resources, please visit our current website.
Celebrating Bishop Ken Mason
February 14, 2018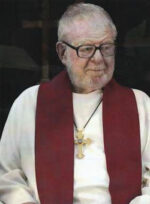 ABM has published a special booklet to mark the 50th anniversary celebration of Bishop Ken Mason's consecration.
Bishop Ken Mason was installed as the first Bishop of the Northern Territory on 1st March 1968. One of his many achievements over those fifty years was serving as Chairman of the ABM Board for 10 years.
Here is an excerpt from the booklet:
"Ken's practical teaching experience, his academic studies and his thorough knowledge of rural ministry in western NSW and the Northern Territory prepared him for the next stage of his ministry, and on St Matthias' Day (24 February) 1968 he was consecrated bishop in St John's Cathedral, Brisbane, at the hands of Archbishop Philip Nigel Warrington Strong KBE, and other bishops from around Australia. He was appointed to lead the newly-founded Diocese of the Northern Territory as its first bishop. He was installed as the first Bishop of the Northern Territory on 1 March 1968. His installation took place in the old Christ Church, Darwin, which became the cathedral for the new diocese. Cyclone Tracy destroyed this building on Christmas Day 1974. Only the entrance porch of the cathedral remained and this is now incorporated in the 'new' Christ Church Cathedral, which was consecrated on 13 March 1977 in the presence of the Archbishop of Canterbury."
and …
"On 30 August 1992, Ken was in Popondetta for the 50th anniversary of the New Guinea Martyrs. Later he said to the students of the Martyrs' Memorial School: 'I could not help feel in the Cathedral of the Resurrection, dedicated to new life, as we celebrated the Eucharist and acknowledged that through death we come to new life that all of those fifty years and indeed beyond gave us a great hope for the next fifty years. Not only will the Spirit enliven our minds in visions and dreams but provide us with the ability to make the plans and carry them out – to set ourselves goals. It is in your hands, no one else's.'"
>> Download a free .pdf copy of 'Fifty years a bishop' here
Sydney Events: Celebrating 50 years with Bishop Ken Mason
For those who would like to join in celebrating Bishop Ken Mason's 50th anniversary, as well as 50 years since the Diocese of the Northern Territory came into being, there are three events taking place in Sydney.
> Visit the events page for more details.