ABM Archive Website
THIS WEBSITE CONTAINS ARCHIVE MATERIALS FOR HISTORICAL REFERENCE ONLY
For up-to-date information, including our latest appeals, news, and resources, please visit our current website.
Christine Mary Cooper: Precis of a Life in Mission
December 1, 2020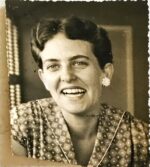 This precis is offered by ABM's Ivan Head, Gifts in Wills Officer, in memory, thanks and acknowledgment of Christine Mary Cooper's missionary service. The author thanks all who contributed source material.
A funeral service for Christine Cooper, who served in Papua New Guinea and in Taiwan, was held in Holy Spirit Anglican Church, Kenmore (Brisbane) on 16 October 2020. Christine lived to the age of eighty-six. She had become a secondary school teacher and taught for the Queensland Education Department in high schools at Beaudesert, Gympie and Mt Gravatt before moving to Ipswich Girls' Grammar School, where a photograph of Mavis Parkinson (one of the World War II Anglican New Guinea martyrs in) contributed to her personal call to missionary service. "Here I am Lord, send me".
From Brisbane she went to the House of the Epiphany, Stanmore (Sydney) in 1962 to undertake formal preparation and studies for missionary service. This led her to teaching appointments in Dogura on the north coast of the then Territory of Papua and New Guinea in that same year at Holy Name School with the Sisters of the Community of the Holy Name. She remained there twelve years.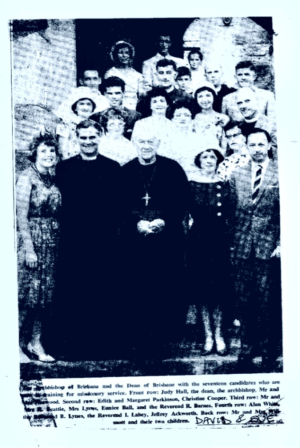 A photograph in 1962 shows the then Archbishop of Brisbane (Sir Reginald Halse 1881-1962) and the then Dean, with seventeen diocesan candidates for missionary service in that year, including Christine Cooper. After Archbishop Halse's death in 1962 Bishop Strong came from New Guinea to Brisbane to succeed him just before Christine began her missionary service in PNG.
© Unknown.
The large numbers of Australian Anglicans offering for direct and immediate missionary service in those years is significant for us to reflect on today: about change and continuity in the service of the Lord.
Christine's next overseas service was in the Taiwan Sheng Kung Hui (Taiwan Episcopal Church) where she served as English language secretary to the bishop from 1983-1991. The present bishop, The Rt Rev Dr Lennon Y. R. Chang, has written a letter of appreciation to ABM in which he says: "The Diocese of Taiwan is grateful to Almighty God for the life and ministry of Miss Christine Cooper, and we pray for her family and friends in their loss."
From the bishop's letter, we know that during her time in Taipei, Christine learned Mandarin for ten hours a week. She also taught English classes ten hours a week, and as a teacher she was fully engaged with the local community and was a member of the English congregation of the Good Shepherd Church in nearby Shilin. This period was enriched when her brother shared a house with her for part of this time. In the office, she dealt with international correspondence, oversaw the diocesan library, produced the Diocesan Friendship Magazine and welcomed international visitors.
Christine served two bishops, Bishop P. Y. Cheung (1980-87) and Bishop John C. T. Chien (1988-2001). She is warmly remembered for her hard work and dedication. Following her death, personal reminiscences of Christine were received from Jasmine (daughter of Bishop Chien) and from Rev'd Graham and Mrs Lois Ogden, former CMS-Australia missionaries in Taiwan. They note her complete "dedication to the mission and service of the church at the diocesan and local level." The then rector of Good Shepherd Church,Taipei, Rev'd David Chee, writes about her involvement with the expatriate and local congregational life and expresses his thanks for her service in those years, concluding, "Rest in peace, faithful servant of Christ."
I had the great privilege of reading a set of letters that Christine sent to family and friends back in Australia when Christine was based in Taipei. She had a fine eye for detail and was an interested and insightful observer into all that made for local culture and colour, and of the deeper social, political and religious dimensions of the day. Her letters home indicate that she was a person of deep reflection. In her letter for Christmas 1989 she writes about the Tien An Men (Tianenmen Square) incident in China and about local and wider reactions to this event — an event still volatile today. She casts a forward glace to the resumption of Chinese rule in Hong Kong, then a further eight years away. Perhaps the aware are always prescient of the signs of the times. Christine was.
In another place, Christine writes about a day with an auspicious date whose numbers are said to be good for praying – which locally means asking for favours or lucky numbers for gambling. This translates readily into modern Australian attitudes and views of divine intervention. Her deeper reflections are set in the narrative of the normal routines of the city and making life happen – and of seeing Taiwan for herself and in the company of friends.

English language secretary to the bishop © Estate of the late Christine Cooper. Used with permission.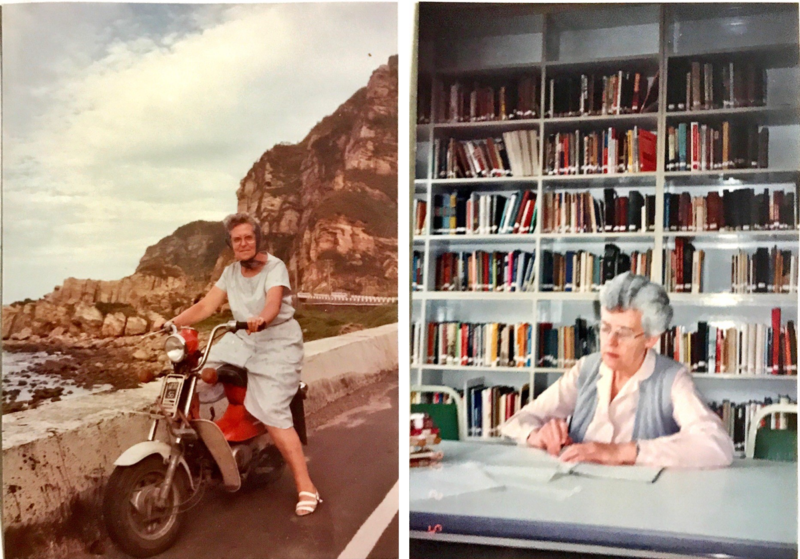 Left: Christine exploring Taiwan © Estate of the late Christine Cooper. Used with permission.
Right: Working in the library © Estate of the late Christine Cooper. Used with permission.

Lyn Gregory, a friend of Christine's who sent me the letters, also sent me a retrospective article that Christine wrote, called Teaching with the Anglican Mission at Dogura. It is a thorough account of her experiences as a teacher across the earlier PNG years in a school that remained single sex for girls until 1991. The following paragraph is of particular interest and refers to the first year of Papua New Guinea's independence from Australia:
By 1976 we had about 380 students and a staff of 19, including 9 indigenous members – 7 teachers, a librarian and the school secretary.
During the year, someone in the Department wanted statistics on language distribution in PNG and, as usual in such cases, the schools were directed to provide them. We had to assemble the girls, then get them to form groups of those who could converse with each other. (Some "languages" are dialects, such as those of Dogura's adjacent Wedau and nearby Wamira, closely enough related for the inhabitants to understand each other.) Our 380 ended up in 25 groups. This and the fact that their schoolwork was all in English were the bases of our school rule that English was to be spoken at all times on the school property. It had been found that girls getting into small same-language groups, e.g. in the dormitories, caused one group to misunderstand and take offence at another. Off the property and after school and at weekends, the girls could speak any language they chose.
Rev'd Randall Nolan said in his eulogy at Christine's funeral service:
My last occasion of working with Christine was in 2014, when I invited her to St Paul's, Ipswich, as our special guest on Martyrs Day – the day when we remember the Anglican martyrs of New Guinea. The church was packed with students from Westmac Anglican school, who were on the edge of their seats as Christine told her life story, and especially how much the New Guinea martyrs, especially Mavis Parkinson, had meant to her and shaped her life. I'm sure she touched many lives that day. Thank you, Christine, for all that you have given to so many, and for all you have meant to me.
The eulogies also contained this vignette of a visit from Prince Charles when he was a secondary student in Australia:
Christine's penchant for parties and picnics served her in good stead when she somehow managed to connect with a couple of young men who were escorting a "very important young man" through a school expedition to PNG. (He was taking his final school year in Australia.) She asked if he might come to a picnic, which was duly arranged so long as his bodyguards could come, too. Of course they could. You can see the party on the slide and perhaps recognise the young Prince Charles on the left. Apparently, there was a sing-sing and the picnic continued well into the night.
I conclude with remarks from the eulogies for Christine, adding ABM's thanks to her for all that she gave and went on giving to the mission that is Christ's:
In 1991 Christine returned to Australia, retiring from the mission field. Between mission placements, and subsequent to it, Christine taught at various South East Qld schools. She eventually ended up at Cedar Crossing and the Anglican Parish of Kenmore-Brookfield. . . . Her generosity and perceptiveness towards others' needs were considerable. Christine lived by one of Mahatma Gandhi's sayings: "We should live simply so that others can simply live."
And on the Wednesday evening, and particularly on Thursday morning last week, the world was filled with joy, and Beethoven's Song of Joy kept playing through my head. As Rabindranath Tagore has said, "Death is not Extinguishing the Light. It is putting out the lamp because the Dawn has come." So happy travelling, Christine. The dawn has come.
May Christine rest in peace and rise with Christ in glory.