ABM Archive Website
THIS WEBSITE CONTAINS ARCHIVE MATERIALS FOR HISTORICAL REFERENCE ONLY
For up-to-date information, including our latest appeals, news, and resources, please visit our current website.
Church Agencies Network work together on disaster preparedness and response
May 3, 2017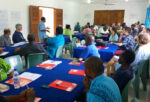 Dr Julianne Stewart, ABM's Programs Director, is currently in Port Vila, Vanuatu, at a Church Agencies Network Disaster Operations (CAN DO) workshop which runs from 2-5 May. Its member are there to discuss Churches working together in disaster preparedness and response.
The Church Agencies Network (CAN) is a consortium of eleven Church based organisations (Agencies) engaged in overseas aid and development in countries throughout the world but primarily in the Pacific, South East Asia and Africa. Each Agency is accredited with DFAT to raise funds from the Australian public and is a member of the Australian Council for International Development (ACFID).
The Church Agencies Network Disaster Operations (CAN DO), is a collaboration of eight of the eleven Agencies working to strengthen communities facing humanitarian crises, of which ABM is a part.
The workshop is taking place at a model evacuation centre built by the Vanuatu Christian Council.
Julianne reported that the Churches have been mapping their combined response to Cyclone Pam in March 2015 and it's a very impressive map indeed! They have also been engaging in a visioning of how churches might combine their strengths to prepare communities and respond more effectively to future disasters.
One of the strengths that has been discussed, and which people feel could be built on, is doing well- coordinated needs assessments after a disaster.
Participants noted that in order to work effectively together, each church would need to focus on the good of the whole, rather than showcasing their own denomination, in pursuit of the ecumenism that expresses Christ's desire that we all be one, as he and the Father are one.
Update: Julianne departed Vanuatu on 5 May when Cyclone Donna was bearing down on the northern group of islands. ABM has since launched an emergency appeal and has provided funding for food aid. To find out more about the response and any updates, please go to www.abmission.org/vanuatu-cyclone-emergency.