ABM Archive Website
THIS WEBSITE CONTAINS ARCHIVE MATERIALS FOR HISTORICAL REFERENCE ONLY
For up-to-date information, including our latest appeals, news, and resources, please visit our current website.
Consecration of new Bishop of New Guinea Islands
August 11, 2021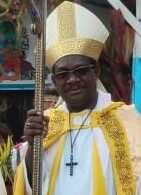 ABM warmly congratulates newly-consecrated Anglican Bishop of New Guinea Islands, the Right Reverend Reginald Makele.
Read this story about the consecration written by one of the participating delegates, Anglican Church of Papua New Guinea's General Secretary, Dennis Kabekabe, for the Newsletter of the Anglican Church of Papua New Guinea.
On 8 July 2021 delegates attending the consecration of Bishop-Elect Reginald Makele travelled to West New Britain's capital, Kimbe and spent the night. The next morning, the delegates embarked on a 1.5 hour road trip by Land Cruiser, crossing the Cape Gloucester Peninsular to a place called Garu, where the people from South Coast usually catch outboard motor boats to their villages along the southern coastline of West New Britain.

SagSag was our destination, home village of the bishop-elect. This takes eight hours to reach by a 75 HP engine powered dingy, spending one night along the way on Ateatu island.
We left Ateatu island at about 6.30 am the next day for Kilenge village. Arriving there at about 10.30 am we then headed for SagSag. The first stopover and traditional ritual welcome occurred at Laut village where we were welcomed by the bishop-elect's family on the sea, and by 'duk-duk' dancers on the land. We then stepped over two elderly ladies who lay on a traditional pandanus woven mat as part of the welcome. One of them was bishop-elect's mother. After refreshment and speeches, the party left Laut village for SagSag Parish.
Once there, we were again welcomed by the community with a traditional ritual on the sea and beach, with welcome songs and duk-duk dancing.
We walked about a kilometre from the beach to SagSag parish, led by a traditional sing-sing group.
Next day, Sunday 11 July, we had morning devotion at 8.30 am followed by the two-hour consecration service, starting at 9.00am.
Traditional dancers from Laut community carried the bishop-elect on a chair to be handed over to the procession party. The procession party was then led by the traditional dancers into the church.
The celebrant was Bishop Tennyson Bogar. Acting Archbishop Nathan Ingen presided over the consecration and installation of the Bishop-elect.
The celebration and feasting lasted all afternoon, ending with prayer at 5.30pm. Next day, all the delegates began our return journey home.