ABM Archive Website
THIS WEBSITE CONTAINS ARCHIVE MATERIALS FOR HISTORICAL REFERENCE ONLY
For up-to-date information, including our latest appeals, news, and resources, please visit our current website.
COVID Revelations: Indigenous Perspectives
August 6, 2020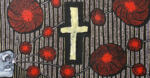 Aboriginal and Torres Strait Islander peoples experience the pandemic in ways that are unique to their experience as both First and colonised nations. This panel, hosted by the University of Divinity, will seek to explore that unique experience.
Thursday 13 August, 10:55 am–12:00 pm AEST
Join in on Zoom from 10.55am, for an 11am start. Follow the 'Join on Zoom' link at https://vox.divinity.edu.au/event/covid-revelations-indigenous-perspectives/
Speakers
Garry Deverell, trawloolway man and Vice-Chancellor's Fellow in Indigenous Theologies, University of Divinity (Moderator)
Di Langham, Boandik woman and Prisons Chaplain, Hunter Valley
Naomi Wolfe, trawloolway woman and Dean of the UD's Indigenous Studies programme (NAIITS)
Mark Yettica-Paulson, Birrah, Gamilaroi, Bundjalung man and Director of SuperNative Unlimited, Brisbane
Glenn Loughrey, Wiradjuri man and author of Blackfella's Youngfella
Victor Joseph, Torres Strait Islander man and Principal of Wontulp-Bi-Buya College, Cairns