ABM Archive Website
THIS WEBSITE CONTAINS ARCHIVE MATERIALS FOR HISTORICAL REFERENCE ONLY
For up-to-date information, including our latest appeals, news, and resources, please visit our current website.
Cuts to Australian aid will hurt the poor
December 16, 2014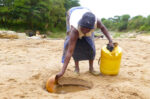 On Monday the Australian Government announced that they would be cutting another $3.7 billion from Australia's overseas development spending over the next three years. After the cuts, Australia will give only 0.21 percent of national income towards helping the world's most disadvantaged people overcome poverty. This is the lowest level of aid spending since records began in 1954.
ABM's Executive Director, John Deane has expressed extreme disappointment at the cuts, reminding all Australians that despite this temporary economic downturn Australia remains one of the most affluent nations of the world. He called upon Australia's leaders to open their ears to the cries of the poor and not to cut assistance to people struggling with poverty and deprivation in circumstances far worse than most Australians would ever know or experience.
The Australian Council for International Development has released this statement in relation to the cuts: http://www.acfid.asn.au/media/media-releases/government-promises-on-australian-aid-are-worthless.