ABM Archive Website
THIS WEBSITE CONTAINS ARCHIVE MATERIALS FOR HISTORICAL REFERENCE ONLY
For up-to-date information, including our latest appeals, news, and resources, please visit our current website.
Dedication of General Synod Office by the Primate
October 24, 2014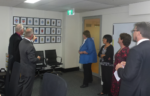 On Thursday, 23rd October, all agencies and parishes of the Anglican Church were invited to join in the dedication of the new General Synod Office.
ABM was represented by Christopher Brooks, ABM's Communications and Fundraising Manager. The new Primate of Australia, Archbishop Philip Freier of Melbourne, officiated at the service. Readings and prayers were said by staff from the General Synod Office.
Martin Drevikovsky, General Secretary of the Anglican Church of Australia, then hosted a reception after the service where tea, coffee and cakes were served. (He is pictured below with Archbishop Phillip Freier).
The new offices have temporary stunning vistas over Darling Harbour in Sydney. Unfortunately, due to a new development called Barangaroo, these vistas won't last.
ABM wishes the staff God's blessing on their new location and we look forward to visiting often.