ABM Archive Website
THIS WEBSITE CONTAINS ARCHIVE MATERIALS FOR HISTORICAL REFERENCE ONLY
For up-to-date information, including our latest appeals, news, and resources, please visit our current website.
Denise Wilson, ABM's receptionist, embarks on a well deserved retirement
May 6, 2014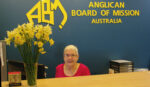 ABM is sad to announce that our receptionist Denise Wilson retired last week. Denise has been one of our longest serving staff members, having worked for ABM as a missionary and receptionist since 1970. Here we share a brief account of Denise's story.
Denise Wilson grew up in the small country town of Tottenham, near Dubbo, where her parents ran the local general store.
She was the second eldest of five children and attended boarding school in Dubbo. Denise and her sister attended St Faith's Hostel and their brothers went to St Francis' Hostel.
After studying at TAFE, she got a job in an accountant's office in Dubbo for 2 years. After that, she helped out at her parent's store. Denise recalls, "It was mainly behind the counter or packing groceries which I delivered around the bush in our old Falcon which had lots of holes in the bottom of the car."
Denise said, "I was reading the Church paper called The Anglican and noticed there was a position for a receptionist in the Solomon Islands. I then asked mum and dad if I could apply for it, and they were fine about it. I had to come down to Sydney and stay at the House of the Epiphany."
It was there that she met John and Moya Holle who also have a long association with ABM. Over a period of about five months, Denise worked in the office and learnt about the Solomon Islands and its people. Together with three other people, she flew out to the islands in January 1970.
They arrived in Papua New Guinea, stayed the night with the Franciscan Brothers and then went onto Honiara the next morning.
"We were met by Bishop John Chisholm and for me everything was so exciting; the trip, the people, just wonderful. I loved my work. We all had this wonderful communication," she said.
After working in Honiara for three years, Denise decided to return home to her mother in Australia when her father suddenly passed away.
They lived in the Hurstville area in Sydney and attended the Anglican Church of Penshurst. Fr Tony Ireland was the priest and Denise would often go to the meetings of the Comrades of St George.
She said, "And that was where I met my husband Cec. Some years later we noticed that ABM was recruiting for a General Secretary in PNG. They chose Cec so he took retirement and we all went to PNG with our daughters; Adele 5, Kaari 4 and Danielle 18 mths. We all loved it and stayed for 6 years."
Denise started working in the ABM office in 1991 as receptionist and has been the voice and face of ABM ever since to our many visitors, supporters and contacts.
We acknowledgement Denise's tremendous contribution to us through her work and dedication over many years. Our thanks, prayers and good wishes go out to her, Cec and the family for her well-deserved retirement. The ABM family will miss her very much indeed.
Pictured below from left to right: The Revd John Deane (ABM Executive Director), Bishop Ken Mason (former ABM Chairman), Mrs Denise Wilson and Dr Linda Kurti (former ABM Executive Director).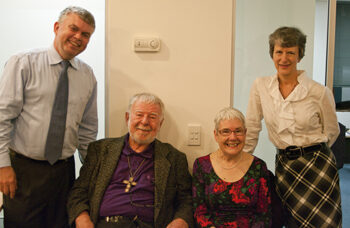 View more photographs from Denise's farewell on ABM's Facebook page.