ABM Archive Website
THIS WEBSITE CONTAINS ARCHIVE MATERIALS FOR HISTORICAL REFERENCE ONLY
For up-to-date information, including our latest appeals, news, and resources, please visit our current website.
Easter Message from Archbishop Philip Freier
March 28, 2018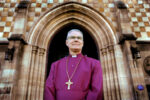 From the Anglican Communion News Service website March 27, 2018:
An Easter message from the Primate of the Anglican Church of Australia, Archbishop Philip Freier
One incident in the Gospel of John provides a unique insight into the significance of Easter. It is a deeply human and moving moment, and quite revealing. I am referring to the short passage in chapter 19, where Jesus, in agony on the cross, sees his mother, Mary, and the beloved disciple, John standing before him.
Jesus said to his mother, "Woman, here is your son". To the disciple, "Here is your mother". From that hour John took Mary into his own home.
There is so much going on in the Easter narrative it is easy to lose sight of the poignancy of this moment. Earlier in the same Gospel, Jesus declared his intention to bring others to life in all its fullness. Even in this time of torture, he is still looking to others, still directed by love and compassion in these final moments of his life.
From the cross, Jesus establishes a new and deeper relationship between the beloved disciple and Mary. From despair, he calls out a new possibility, a powerful expression of the message that has been ever-present in his life and ministry. It is as much a reality here on the cross as it was in his miracles of healing. Jesus's death and resurrection is love's ultimate expression.
Too often, life's burdens can lead us to despair. One of the beauties of Easter is that it shows how despair never owns the last word. After Jesus's death the disciples' first reaction is despair. They become consumed by hopelessness and their powerlessness to save Jesus from cruelty and suffering. Their focus turns inward as they are gripped by their own fear and anxiety. But soon as they encounter the truth of Jesus's resurrection, the disciples' despair turns to joy.
Christians are Easter people in the fullest sense. We have been bound to a new relationship with God and with each other through these Easter events. We know and live in daily gratitude of what a gift we have been given through the life, death and resurrection of Jesus. Our hope is in and through Jesus.
Easter blessings as you celebrate the greatness of the salvation that is God's free gift to you through Jesus Christ.