ABM Archive Website
THIS WEBSITE CONTAINS ARCHIVE MATERIALS FOR HISTORICAL REFERENCE ONLY
For up-to-date information, including our latest appeals, news, and resources, please visit our current website.
2017 One World Wontok Conference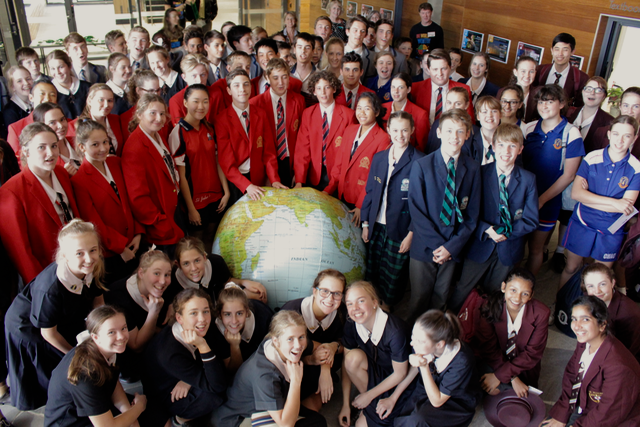 The Wontok Brisbane students at Churchie Anglican Grammar school.

© ABM/Brad Chapman, 2017.
Did you know that the World Bank measure on poverty indicates
about 1 billion people still live on less than $1.25 a day and
more than 800 million people are without enough food to eat?
The annual One World WonTok Conference engages secondary students in interactive learning activities to raise awareness about the complexities of global poverty. In 2017 Roxanne Roberts from Anglicare Papua New Guinea was our amazing guest speaker! Roxanne has led HIV intervention programs targeting vulnerable and marginalised population groups (particularly teens) throughout PNG and currently oversees all of Anglicare PNG's HIV programs.
As well as engaging with Roxanne and her story, the 2017 conference delved deeper into the Sustainable Development Goals (SDGs) and raised questions about what these goals mean for us living here in Australia. The goals are a universal guide for nations as they develop economic, social and environmental policies and overseas aid programs designed to end poverty (see more here).
Thanks to all the students, teachers, and chaplins who helped to make these conferences the best yet!
Conference updates
Check out your city for photos of the conference:
Adelaide
Brisbane
Gold Coast
Melbourne
Perth
Sydney
Been to the conference and want to do more?
Check out our Advocacy pages for ways to continue the campaign for justice.
Is your school interested in supporting the St. Matthew's Community Library in Ethiopia?
Click here for more details.
How about a Service Learning Exchange with Amity in China?
Find out more here, and talk to Kate if you are interested – jiangyuanyuan@amity.org.cn
Are you in Melbourne, and want to join like-minded people? Check out Our World for upcoming events focused on alleviating poverty and injustice.
For any queries about the conference or any related activities, please contact Education Officer Sarah Gover at education.officer@abm.asn.au.