ABM Archive Website
THIS WEBSITE CONTAINS ARCHIVE MATERIALS FOR HISTORICAL REFERENCE ONLY
For up-to-date information, including our latest appeals, news, and resources, please visit our current website.
Episcopal Church in the Philippines elects new Prime Bishop
May 11, 2017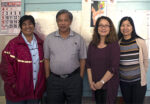 The Rt Rev Joel Pachao has been elected as the 6th prime bishop of The Episcopal Church in the Philippines. The following article comes from Episcopal News Service (episcopaldigitalnetwork.com):

May 10, 2017
Joel Pachao elected Episcopal Church in the Philippines prime bishop
[Quezon City, Philippines – by Caroline Carson] The Rt. Rev. Joel A. Pachao was elected May 10 as the 6th prime bishop of The Episcopal Church in the Philippines.
Pachao, 61, is currently the bishop of the Episcopal Diocese of North Central Philippines, based in Baguio City in Benguet Province. He was one of three nominees.
In order to be elected, a candidate needed to receive a simple majority of votes from both clergy and the lay delegates, voting separately on the same balloting round. Pachao was elected on the second ballot, receiving 44 clergy votes and 39 lay votes, with 36 and 32 needed, respectively, for election.
The election took place during the church's 10thRegular Synod being held May 9-12 at the church's national compound in Cathedral Heights here.
"Over the years we have been guided by the Five Marks of Mission in our mission planning and much has been accomplished, so there is no need to change," Pachao said. "All the more, there is need for the whole ECP to take the Five Marks of Mission seriously and purposefully to heart and let them guide our life, our mission, and our ministry as a church. What we need to do is to build on what has been accomplished. This we can do even as we seek additional ways of living out the Five Marks of Mission in the light of new challenges that come our way."
"Perhaps we can learn from government. Each time a new administration takes over, most, if not all, previous priorities are abandoned and new plans and programs take their place covered by new rules. This must be avoided in the church. We do not live from one administration to the other, but rather, we exist to do the unchanging mission of Christ."
Pachao will be installed as prime bishop in June during a worship service at the Cathedral of St. Mary and St. John in Quezon City. Current Prime Bishop Renato Abibico will preside.
Pachao was ordained a priest in 1982 after graduating from St. Andrew's Theological Seminary in Quezon City in 1980. He served as priest in seven locations until his consecration as bishop in 1993 at the Pro-Cathedral of The Resurrection in Baguio City. He is married to Precilla Gacod, and they have two grown children, Kelcy Pachao Salinas and Kent Pachao who are both nurses and currently reside in London.
The other nominees in the election were: Bishop Brent Harry W. Alawas (Diocese of Northern Philippines) and Bishop Dixie Copanut Taclobao (Diocese of Central Philippines).
The Episcopal Church in the Philippines began as a missionary diocese of the U.S.-based-Episcopal Church and became an independent church in the Anglican Communion in 1998. In February, Presiding Bishop Michael B. Curry and Abibico signed a concordat on provincial companionship.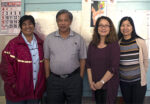 ABM warmly congratulates Bishop Pachao on his election as the next Prime Bishop and we look forward to continuing our longstanding and valuable relationship with the Episcopal Church in the Philippines under his guidance. Bishop Pachao is pictured with ABM staff members (to his left) Lina Magallanes, South East Asia Program Coordinator, and Wilnor Flores, Church to Church Officer.