ABM Archive Website
THIS WEBSITE CONTAINS ARCHIVE MATERIALS FOR HISTORICAL REFERENCE ONLY
For up-to-date information, including our latest appeals, news, and resources, please visit our current website.
Episcopal Diocese of Jerusalem Elects a New Coadjutor Bishop
February 5, 2020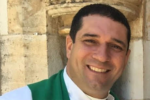 (News from the Episcopal Diocese of Jerusalem. Source: j-diocese.org)
31 January, 2020
This past Thursday, 30 January, seventy-seven clergy and lay delegates of the Episcopal Diocese of Jerusalem gathered in the Chapel of the Theodor Schneller School in Amman, Jordan, to elect a new Coadjutor Bishop. Three candidates stood for the election: The Reverend Canon Faeq Haddad, Rector of Redeemer Church in Amman; The Very Reverend Dr. Hosam Naoum, Dean of St. George's Cathedral, Jerusalem; and The Reverend Samir Said, Rector of The Virgin Mary Church in Irbid, Jordan.
Following a service of Holy Eucharist celebrated by Archbishop Suheil Dawani, the delegates reassembled in the chapel where they cast their ballots individually by clerical and lay houses. In the second round of voting, the Very Reverend Dr. Hosam Naoum was elected as Bishop Coadjutor according to Constitutional rules.
The delegates offered their thanks to all the candidates who stood for the election, and their congratulations to the new Bishop-elect, Dean Hosam and his wife Rafa, promising their continuing prayers for them and their three children, Wadie, Laurice, and Christa.
Pending ratification from the Central Synod of the Province of Jerusalem & the Middle East, Dean Hosam will be consecrated as Bishop Coadjutor at St. George's Cathedral on a date to be determined this coming Spring. Upon the retirement of Archbishop Suheil in 2021, he will be installed as the Anglican Archbishop in Jerusalem and will oversee a Diocese which extends over five countries or territories—Israel, Palestine, Jordan, Lebanon, and Syria—and consists of twenty-eight congregations and more than thirty charitable institutions, including two major hospitals, several clinics and rehabilitation centers, and more than a dozen schools.