ABM Archive Website
THIS WEBSITE CONTAINS ARCHIVE MATERIALS FOR HISTORICAL REFERENCE ONLY
For up-to-date information, including our latest appeals, news, and resources, please visit our current website.
Evaluation of ACT Alliance Response to 2015 Nepal Earthquakes
November 10, 2016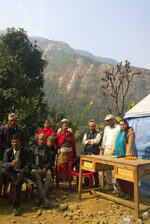 ABM's supporters raised $226,742 for ABM's Nepal Earthquake Appeal, which was sent to support the response of long-term Nepal-based NGO, Lutheran World Federation, through Action by Churches Together (ACT) Alliance. A couple of months ago an independent evaluation team commissioned by ACT completed their evaluation of the ACT response.
LWF worked in Lalitpur, Bhaktapur, Rasuwa, Kathmandu, Sindhupalchowk, Dolakha, Kavre, Nuwakot and Makawanpur districts, all badly affected by the two Earthquakes. Responses by four other ACT agencies were also included in the evaluation.
Most affected community members interviewed stated that they were very satisfied with the quality, timeliness and quantity of relief items provided (food packages, corrugated iron sheets for temporary shelter, stoves, blankets etc). Some who had been given cash instead of goods suggested the goods might be better in future, since it was often difficult to go out and buy goods themselves, especially people with disabilities. People felt the food given was culturally appropriate.
The ACT response supported more than 100,000 households affected by the earthquakes. The kind of assistance given (apart from food and shelter already mentioned) included rehabilitating water points and toilets, livelihood support, temporary schools, psycho social support, as well as training in Disaster Risk Reduction, hygiene promotion and some housing construction, all of which will help better prepare communities for future events.
The evaluators found that the ACT members worked well together, and used mobile phone apps for joint needs assessments, and used common templates for data collection, making working together more efficient and effective. They also found that the ACT agencies went out of their way to reach the most vulnerable of those affected by the disasters.
Communities appreciated the use of "transparency boards" which show all the activities being conducted within the one community by various agencies. They also said they preferred a phone-based complaints mechanism whereby they could phone their local village development committee if they needed to make a complaint, or express a concern, rather than have to make written complaints or complaints direct to the implementing bodies.
One of the main areas of learning from the evaluation was of the need to make more effort in future to include women when identifying the most vulnerable people, and in community consultations generally. Many women surveyed by the evaluators felt that women were not consulted as much as men were, and thus some vulnerable women were left out of the responses. This imbalance was somewhat mitigated by some ACT agencies hiring women in key positions.
ABM would like to express its appreciation to our generous supporters who donated to this appeal. Although recovery from the earthquakes is ongoing, with many still homeless, the ACT Alliance response addressed the immediate needs of people affected by the disaster in ways that were effective, sensitive to local culture and greatly welcomed.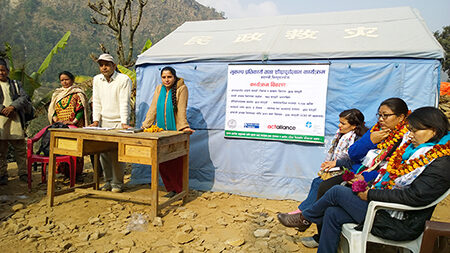 Water Users' Group meeting with ACT monitoring team in Baramchi Village,
January 2016 . © Julianne Stewart/ABM.