ABM Archive Website
THIS WEBSITE CONTAINS ARCHIVE MATERIALS FOR HISTORICAL REFERENCE ONLY
For up-to-date information, including our latest appeals, news, and resources, please visit our current website.
Faith leaders oppose plans for new coal mine in Northern Queensland
April 19, 2018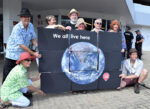 Article from The Melbourne Anglican

Faith leaders urge Adani to dump coal, invest in renewables
By Chris Shearer
APRIL 19 2018 Over fifty religious leaders from across Australia have called on Gautam Adani, Chair and founder of the Adani Group, to abandon plans to build a new coal mine in Northern Queensland.
In an open letter delivered on 18 April to representatives of the Adani Group at their Townsville office, the coalition of Christian ministers – including Anglicans Bishop Philip Huggins and Dean of Brisbane's Cathedral Dr Peter Catt – Rabbis, Imams, Buddhists and Religious Sisters said they oppose all new coal mining in Queensland's Galilee Basin.
The faith leaders argued that the environmental impact of a new mine would be "too great", while the economic rationale was "grasping at short-term profits from a thermal coal industry in worldwide structural decline" and could not provide the long-term jobs the region needs. Instead, they urged Mr Adani to invest his company's wealth into renewable energies.
"We are at a crossroads," the letter reads. "One way lies destruction; the other way, sanity. We need to turn immediately in the direction of a stable and compassionate future based on ambitious investment in renewable energy.
"Our love and concern for the wellbeing of people, other forms of life and our planet leaves us convinced that building this mine would be a giant leap in a very dangerous direction.
"We therefore call on you to abandon it and to work instead with state and federal governments to invest in good local jobs in solar and wind. You have the capacity to do enormous good."
The letter was organised by the multi-faith environmental group Australian Religious Response to Climate Change (ARRCC).
ARRCC board member Rabbi Jonathan Keren-Black, who was in Townsville for the letter's delivery, said Mr Adani's choice should be clear.
"Dollar for dollar, renewables provide a lot more jobs than coal. The figures are very clear. Investment in renewables could provide all sorts of jobs, from fabrication to installation, operation and maintenance jobs as well as research, education and training. Mr Adani can do so much good, and right now he's at a crossroads," Mr Keren-Black said.
"There is so little time left to act on climate change and so much carbon dioxide that would be emitted if mining went ahead in the Galilee Basin. This needs to stop being treated as a political issue and be recognised for what it is – simply a moral issue."
A spokesperson for Adani told TMA: "We welcome the opportunity to arrange a meeting with the groups who wrote to us yesterday to answer their questions about our significant renewables business here in Australia and overseas and to build their confidence that we can construct and operate the Carmichael Project safely and sustainably and deliver jobs and economic benefits for Australian families and communities."
(Image: from https://www.facebook.com/ARRCC/)