ABM Archive Website
THIS WEBSITE CONTAINS ARCHIVE MATERIALS FOR HISTORICAL REFERENCE ONLY
For up-to-date information, including our latest appeals, news, and resources, please visit our current website.
First Aboriginal Anglican bishop for South Australia
April 15, 2015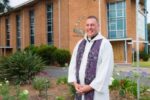 ABM warmly congratulates the Reverend Christopher McLeod on his ordination as Assistant Bishop over the weekend, which was attended by our Reconciliation Coordinator Malcolm MacCallum.
[ABC News] South Australia's first Aboriginal Anglican bishop says he plans to use his new role to focus on reconciliation between Indigenous and non-Indigenous people.
Reverend Christopher McLeod, who is of Gurindji descent and whose mother was a member of the Stolen Generations, has been ordained as Assistant Bishop at St Peter's Cathedral.
He has most recently served as the rector at St Jude's Church at Brighton, and becomes the only Aboriginal bishop currently serving in Australia.
The appointment is considered a landmark for the church because Reverend McLeod is only the third Anglican bishop of Aboriginal descent in Australia's history.
(Image by Brenton Edwards)