ABM Archive Website
THIS WEBSITE CONTAINS ARCHIVE MATERIALS FOR HISTORICAL REFERENCE ONLY
For up-to-date information, including our latest appeals, news, and resources, please visit our current website.
Former PNG missionary Sr Margaret Anne passes away
May 4, 2018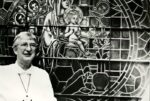 Sister Margaret Anne of the Community of the Holy Name died last Tuesday evening, after a short illness.
Her life and work in Papua New Guinea, especially her years as headmistress of the Holy Name Girls' High School, Dogura, made up one of the happiest and most productive times of her life and ministry. She had a profound influence on the development of the school, and in the lives of many PNG women, whom she always encouraged to take their rightful place in society.
She was always happy to reflect on those days.
She also served as chaplain at Box Hill Hospital and was one of the first women to be ordained in the Melbourne Diocese.
She trained as a Spiritual Director and ministered at St Christopher's Anglican Church in Bentleigh East. In earlier years, she worked in Children's Homes in Melbourne, Adelaide and Goulburn.
Please remember the Community of the Holy Name, and all who mourn Sister Margaret Anne, in your prayers. May she rest in peace and rise with Christ in glory.
The picture shows Sister Margaret Anne when she was chaplain at Box Hill Hospital.