ABM Archive Website
THIS WEBSITE CONTAINS ARCHIVE MATERIALS FOR HISTORICAL REFERENCE ONLY
For up-to-date information, including our latest appeals, news, and resources, please visit our current website.
Freedom Sunday
September 15, 2015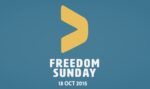 "Human trafficking is a grave crime against humanity. It is a form of modern slavery and a profound violation of the intrinsic dignity of human beings. If we are to combat this evil then we must work together to prevent the crime, support the survivors and prosecute the criminals. The knowledge that churches have of their local communities puts them on the frontline in this campaign. Freedom Sunday provides churches with an opportunity to join together with others around the world in a day of worship, prayer and action on human trafficking. Freedom Sunday challenges us, and resources us to take action to prevent the crime of human trafficking."
Archbishop of Canterbury, The Most Reverend Justin Welby
Human trafficking is not a small problem, nor is it distant from our lives and communities in Australia. Australia is a common destination country for victims trafficked from Asia, particularly the People's Republic of China, the Republic of Korea, and Thailand, as well as Eastern Europe.
On Sunday 18 October 2015, churches all over the world will join together on Freedom Sunday to raise awareness of the crime of human trafficking and show the world our compassion for men, women and children who are trafficked and exploited.
Download free parish resources from the Freedom Sunday global website.