ABM Archive Website
THIS WEBSITE CONTAINS ARCHIVE MATERIALS FOR HISTORICAL REFERENCE ONLY
For up-to-date information, including our latest appeals, news, and resources, please visit our current website.
Freedom Sunday
October 13, 2014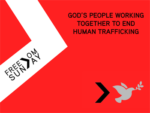 Next Sunday, October 19th, churches around the world will come together in a global day of worship, prayer and action to stop human trafficking.
The Archbishop of Canterbury has encouraged Australian churches to get involved. Prayers, worship resources, visual aids and suggested actions for Freedom Sunday are available at http://www.anglicanalliance.org/pages/8375
The Most Reverend Justin Welby, Archbishop of Canterbury, said:
"Human trafficking is a grave crime against humanity. It is a form of modern day slavery and a profound violation of the intrinsic dignity of human beings. It is intolerable that millions of fellow human beings should be violated in this way, subjected to inhuman exploitation and deprived of their dignity and rights. This outrage should concern each one of us, because what affects one part of humanity affects us all. Virtually every part of this world is touched in some way by the cruelty and violence associated with this criminal activity.
If we are to combat this evil then we must work together to prevent the crime, support the survivors and prosecute the criminals. The knowledge that churches have of their local communities puts them on the frontline in this campaign. Freedom Sunday provides churches with an opportunity to join together with others around the world in a day of worship, prayer and action on human trafficking. Freedom Sunday challenges us and resources us to take action to prevent the crime of human trafficking in our local and global communities."