ABM Archive Website
THIS WEBSITE CONTAINS ARCHIVE MATERIALS FOR HISTORICAL REFERENCE ONLY
For up-to-date information, including our latest appeals, news, and resources, please visit our current website.
Gaza Tensions Escalate
July 18, 2014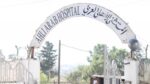 Al-Ahli Hospital Emergency Relief
Over the last 10 days, tensions in the Gaza strip have escalated, with the Israeli military launching an attack on Hamas militants in response to rocket fire from inside the coastal enclave. Many civilians have been caught up in the intense air strikes and artillery attacks, which has claimed the lives of over 230 people.
The Al-Ahli Hospital, with whom ABM has partnered to deliver a Child Nutrition Project over the last several years, has not escaped unscathed. In the last several days, the impact of the air-strikes has caused structural damages to the hospital, including its ventilation system in the operating theatre and the emergency room. In addition, windows have been broken in many buildings, as well as in the new diagnostic centre.
Currently, and since the beginning of the crisis, Al-Ahli staff have maintained around-the-clock presence at the hospital, receiving wounded people and providing them with the critical medical care that they need. Like the other hospitals in Gaza, Al-Ahli Hospital is experiencing shortages in medicine, fuel for electrical generators, food for patients, and food parcels for many in the community seeking this help.
ABM has responded to this crisis, providing a donation from our Global Rapid Response fund of AU$5,000, which will be used to purchase these essential medicines, fuel and food. We encourage anyone who would like to contribute towards these supplies, by donating through our website http://www.abmission.org/pages/global-rapid-response.html
Your prayers are also essential, for the safety of the Al-Ahli Hospital staff and patients, for the families who have lost loved ones and homes in the bombings, and of course for a lasting peace in Gaza.