ABM Archive Website
THIS WEBSITE CONTAINS ARCHIVE MATERIALS FOR HISTORICAL REFERENCE ONLY
For up-to-date information, including our latest appeals, news, and resources, please visit our current website.
Greg Henderson wins international BASE jumping competition in China
November 17, 2015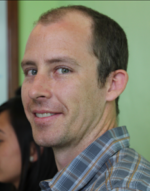 Greg Henderson is part of ABM's Education Team. His role as Education Missioner focuses particularly on schools. He coordinates the annual OneWorld WonTok Youth Poverty and Development Conference for secondary schools around Australia and produces newsletters and educational resources for schools.
Greg has a Bachelor of Theology and is based in Brisbane with his wife Amanda. For those who have met him, he seems like the calm, quiet type who gets on with things without much fanfare.
However, we've discovered another side to Greg – a dare-devil, adrenalin loving, adventurous personality! He recently won an international BASE jumping competition in south China's Guizhou province by jumping 375 metres from Baling River Bridge and beating over 30 jumpers from around the world.
You can view an article about Greg on the ABC News website and watch footage of him jumping from the bridge (at 1:03 dressed in a suit): http://www.abc.net.au/news/2015-11-11/australian-wins-international-base-jumping-competition-in-china/6930482
Congratulations Greg, we're glad you're still in one piece!