ABM Archive Website
THIS WEBSITE CONTAINS ARCHIVE MATERIALS FOR HISTORICAL REFERENCE ONLY
For up-to-date information, including our latest appeals, news, and resources, please visit our current website.
Become an Associate
SHARE THE VISION FOR MISSION
There is a great need for Australian Anglicans to be engaged with and participate in God's mission through ABM.
ABM is the mission agency which belongs to the Anglican Church of Australia, but it only can survive if Australian Anglicans support it. One way that you can be involved is by joining our Associates Program . This program is part of our constitution and it allows people to contribute to the Board and committee structure of ABM.
Associates of ABM have an opportunity to participate in the running of the organisation. Associates have the opportunity to elect a member of ABM's Board and a member to each of ABM's Committees – Church to Church and Community Development. These Associate members are elected for a term of three years. Every year a meeting of Associates will be called and the Board will report.
Being an Associate is an expression of commitment to ABM. It is only one way, but it's a way that carries with it some constitutionally protected rights to participate. In order to become an Associate phone the office with your credit card details and sign up immediately. Or you can email us.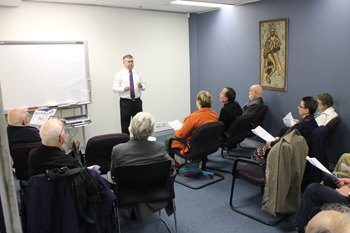 ABM Associates at the 2013 AGM. © ABM/Julianne Stewart 2013
< Back