ABM Archive Website
THIS WEBSITE CONTAINS ARCHIVE MATERIALS FOR HISTORICAL REFERENCE ONLY
For up-to-date information, including our latest appeals, news, and resources, please visit our current website.
Collect stamps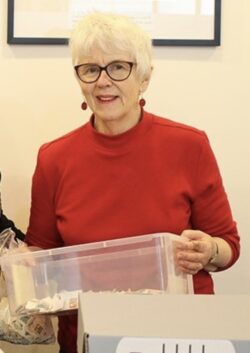 ABM stamp volunteer, Caroline Bowyer,
prepares stamps for auction © ABM
Yes! ABM still wants your used stamps!
For many, many years ABM has been accepting used postage stamps as part of our fundraising. Today this practice continues with our loyal supporters from the different dioceses around Australia sending us stamps on a regular basis. This represents millions of stamps and many, many hours of effort from a large number of Friends of ABM who collect, cut, sort and sell.
We also sometimes receive whole collections from stamp collectors and some of these collections prove to be very valuable when sold – a generous gift to ABM! In fact, if you wish to donate stamp albums, it's important to leave all the stamps in the album, and not to take them out (as some have assumed to be more helpful). Albums sold at auction can often fetch much more than stamps out of albums. Likewise, if you have stamps in perforated sheets, it's best to leave them in that format.
Most stamps are sold to stamp dealers to be used in 'mission mixture packs'.
Here are some more tips for getting stamps ready to send to ABM:
Try to leave about 1cm of envelope or postcard on each side of used stamps.

Do send your parish or individual address so that ABM can send a thank-you letter.

Remember not to include stamps in the same envelope as other important mail or cheques.
ABM would like to say A BIG THANK YOU to all our collectors and helpers for this tremendous effort and to encourage you all to keep collecting used stamps as the money raised goes towards our work in mission.
Click here to learn more about how to send used stamps to ABM.
Please send your stamps to:
ABM – Australia
Locked Bag Q4005
Queen Victoria Building
NSW 1230