ABM Archive Website
THIS WEBSITE CONTAINS ARCHIVE MATERIALS FOR HISTORICAL REFERENCE ONLY
For up-to-date information, including our latest appeals, news, and resources, please visit our current website.
Join the Auxiliary
The ABM Auxiliary was formed in 1910. It prays for, promotes and supports the work of the Anglican Board of Mission.
For most of its life, membership of the Auxiliary was limited to women, but now it is open to all members of the Anglican Church.
Every year, the Auxiliary focuses on fundraising for a special project or group of projects. Their energy, enthusiasm and commitment has played a vital role in raising money in support of many projects which struggle to reach their annual targets.
If you are interested in finding out more about the ABM Auxilary or the 2015 National Auxiliary Project, visit the website page. If you wish to become a member, please contact the office for details of your nearest Auxiliary Representative.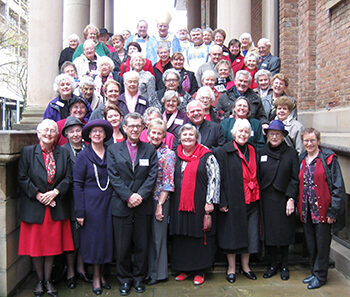 Auxiliary members at the Centenary Celebrations. © Tricia Graham 2010.
< Back