ABM Archive Website
THIS WEBSITE CONTAINS ARCHIVE MATERIALS FOR HISTORICAL REFERENCE ONLY
For up-to-date information, including our latest appeals, news, and resources, please visit our current website.
Hurricane Matthew Emergency Response
October 7, 2016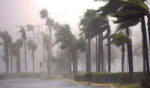 Hurricane Matthew has hit Haiti in the Caribbean, and has left 339 people dead and destroyed 30,000 homes as of today.
ABM's sister organisation in the United States, Episcopal Relief and Development, of whose Province Haiti is a part, has launched an appeal and we encourage anyone in Australia who wishes to support the people of Haiti to do so directly through them. To donate, go to this link: http://www.episcopalrelief.org/hurricane-matthew-response
Episcopal Relief and Development reports that they want to "respond swiftly to help devastated communities in the Caribbean, including Haiti, and in the Southeastern United States."
Please pray for the people of Haiti and for the work ahead for them, and Episcopal Relief and Development in rebuilding people's lives. Please also pray for other countries and areas affected which include the Dominican Republic, Florida, Georgia, the Carolinas, Cuba and the Bahamas.
For up-to-date news from Episcopal Relief and Development, go to:
http://www.episcopalrelief.org/press-and-resources/press-releases/2016-press-releases/prayers-as-caribbean-islands-brace-for-hurricane-matthew
You can find out more by following the links below:
ABC Australia – http://www.abc.net.au/news/2016-10-07/millions-flee-as-southeast-us-braces-for-deadly-hurricane/7911390
BBC News – http://www.bbc.com/news/world-latin-america-37582009
CNN – http://edition.cnn.com/2016/10/06/americas/hurricane-matthew-cuba-haiti/
Reuters – http://www.reuters.com/article/us-storm-matthew-idUSKCN1250G2