ABM Archive Website
THIS WEBSITE CONTAINS ARCHIVE MATERIALS FOR HISTORICAL REFERENCE ONLY
For up-to-date information, including our latest appeals, news, and resources, please visit our current website.
Introducing ABM's new Pacific Program Coordinator
August 12, 2016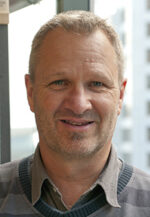 ABM is pleased to introduce Paul Davenport as our new Pacific Program Coordinator.
Paul comes to ABM with extensive experience in South-East Asia, Africa and the Pacific region. He has previously worked for World Vision, Oxfam, AngliCORD and Australian Red Cross in various capacities, and has spent extended periods in Cambodia coordinating programs and facilitating vital research into post-war rural conditions.
For the past six years Paul has worked with the Australian Red Cross as Country Manager for Papua New Guinea, the Solomon Islands, Samoa and Tonga. This work included Disaster Risk Reduction and response, health, water and sanitation, with a strong emphasis on empowering local partners to develop and manage the projects.
When asked to describe the most satisfying aspect of this role, Paul replies;
"To see the capacity of this partner expand was enormously satisfying. After 6 years, they [partners of Australian Red Cross in the Pacific] had steadily made progress towards self-sufficiency, and were able to sustain and increase the growth they had achieved in that time.
For me, this highlighted the importance of partnership, or perhaps 'partnership' redefined. To not work in terms of 'donor agencies' relating to 'recipient agencies', but to have a genuine respect and trust for one another in a spirit of unity, as we reach toward common goals."
Paul began his working life as a Chartered Surveyor for a major London firm. He has a Bachelor of Science in Urban Estate Surveying, and a Master of Arts in Development studies from Monash University. He lives in Melbourne with his partner and two children.
We warmly welcome Paul to the team!