ABM Archive Website
THIS WEBSITE CONTAINS ARCHIVE MATERIALS FOR HISTORICAL REFERENCE ONLY
For up-to-date information, including our latest appeals, news, and resources, please visit our current website.
Introducing the Rev Dr Ivan Head, ABM's Gifts in Wills Officer
February 21, 2019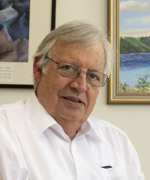 The Anglican Board of Mission is pleased to introduce the Rev Dr Ivan Head who recently commenced his position as the Gifts in Wills Officer, working in the area of bequests.
Fr Ivan believes the purpose of his role is to make sure that anyone thinking about their legacy is encouraged to consider ABM as an organisation worthy of long-term fundamental support. He aims to make it easier to supply bequest information and support, and to encourage people to think about the work that ABM has been doing since the 1850s.
Fr Ivan, who is married with four adult children, comes to our organisation with extensive experience in the wider Anglican life. He studied philosophy at the University of Western Australia and attended Trinity College in Melbourne for initial studies in Divinity. He was ordained as priest by Archbishop Geoffrey Sambell in the Diocese of Perth in 1979, and has worked in the dioceses of Perth, Glasgow, Galloway, Hobart and Sydney.
His academic interests are in the areas of philosophy, theology, history and poetry. He has also written and published some of his poems.
For the last 27 years, Fr Ivan has had oversight for young adult men and women at two Anglican Colleges in Australian Universities – Christ College in Hobart and St Paul's College in Sydney University.
He says, "I'm strongly interested in the life of bright people aspiring to make the world a better place and to be able to represent the Christian faith in some ways in that modern, contemporary setting."
When asked what interested him in working for ABM, he said, "One of the reasons I'm interested in ABM is that it goes way back into the history of the Church of England and the Anglican Church of Australia, back to the mid-19th century colonial life across the Australian Church, and to that extent has the capacity to act in the unified way with the wider Anglican community, which it does.
"I'm very pleased to see that ABM works in Kenya, Zambia, Myanmar, PNG, Vanuatu, the Solomon's, here in Australia, in the Philippines and in the Holy Land. The work that it does is very interesting and worthwhile.
"One could say that work is worthy of support for two reasons … it firstly works in the area of human development and the fundamental quality and dignity of human life. Humans becoming fully alive when their local circumstances are supportive and positive. One could call that civic theology I suppose, but it really overlaps with a long English tradition and Anglican tradition, of the civic community informed by faith, but shared by all people and that's a great work that ABM does.
"Secondly, in the more direct area of theology and Christian spirituality through theological seminary and teaching institutions such as the Anglican college of St John's in Zambia, or programs with Nungalinya College, for instance, here in Australia.
"So ABM is trying to work holistically for the good of men, women and children both in the area of civics and development, and in the core symbolic life of spirituality, faith, religion and theology. So I think there's a tremendous amount there worth being immersed in, and drawing to the attention of people who have the capacity to make a difference, smaller or greater. In particular, some people will say I can support in an ongoing way, but there will be people who will say, what will be my legacy after my life is finished? For some people, there will be the opportunity to say I'd really like to make a difference to the long-term works that ABM does."
"It's certainly part of my belief that if the core activity and program is seen to be valuable, people will give to it in time and personal resource or financially. And I think that comes before questions of fundraising technique and method and so on. So I'm interested at the moment of forming a deeper understanding of what ABM is doing, has been doing and trying to draw out and highlight the very real good that can be found in that."
If you are interested in finding out more about ABM's Bequest Program or leaving a legacy, please visit www.abmission.org/bequests.