ABM Archive Website
THIS WEBSITE CONTAINS ARCHIVE MATERIALS FOR HISTORICAL REFERENCE ONLY
For up-to-date information, including our latest appeals, news, and resources, please visit our current website.
Join the Prayer Journey for the Lambeth Conference 2020
December 5, 2019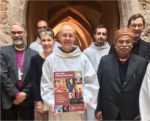 The following information has been sourced from The Lambeth Conference – Join the Prayer Journey website:
Join a movement of people praying for the conference and the life of the Anglican Communion as we seek to be God's Church for God's World – and walk, listen and witness together.
The Lambeth Conference Design Group have launched a prayer journey for the fifteenth Lambeth Conference. The prayer journey was launched with members of the Community of Saint Anselm. The Community of Saint Anselm is an Anglican religious order of young people, devoted to prayer, study and service to the poor. It is based at Lambeth Palace in London, the home of the Archbishop of Canterbury.
The Design Group called for the journey of prayer during a week of planning for the conference in 20-22 November 2019, which saw the team visiting the Anglican Communion Office, the conference venue sites in Kent and Canterbury, and Lambeth Palace. Archbishop Thabo Makgoba of Cape Town is Chair of the Conference Design Group.
Held once-a-decade, the Lambeth Conference is a significant occasion in the life of the Anglican Communion. Gathering bishops and spouses from across the globe, the 2020 conference will be an opportunity for international Anglican leaders to pray, study the Bible together, learn from one another's ministry settings and dialogue on world and church issues.

Archbishop Makgoba shared his excitement for the Journey of Prayer:
'The conference theme is about exploring what it means to be 'God's Church for God's World' in the 21st Century. It's about grappling with the church and world issues of today and tomorrow. A big part of that is about future generations and the role that they will play in the life of the Anglican Communion in the decades ahead. So it's fitting that the Journey of Prayer has been launched with young people today. We hope that people of all ages will join us in praying for this important conference.'
Join the Prayer Journey
People wishing to join the Prayer Journey for the Lambeth Conference can access a seasonal Prayer Diary.
The journey also invites people to send in prayers, which will be displayed on a prayer wall to encourage those attending the conference.
To find out more about Join the Prayer Journey, please visit the website link:
https://www.lambethconference.org/resources/join-the-prayer-journey-for-the-lambeth-conference/