ABM Archive Website
THIS WEBSITE CONTAINS ARCHIVE MATERIALS FOR HISTORICAL REFERENCE ONLY
For up-to-date information, including our latest appeals, news, and resources, please visit our current website.
Latest Coaldrake awards presented
November 30, 2021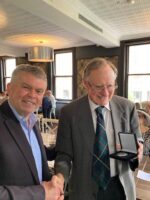 In late November, ABM's Executive Director, the Rev'd Dr John Deane, hosted a lunch to present two Coaldrake Awards. One award was presented to Mr Ian Mcleod, and the other was awarded to Mr Mcleod's late wife, Natalie. Their son accepted his mother's posthumous award. Natalie died in 2015.
Natalie Mcleod served ABM in Fiji for two years as secretary to St Thomas' Church Parish Council in Labasa. Natalie also taught Music at Labasa Muslim High School. She later joined the ABM Auxiliary.
Natalie and Ian have been supporters of ABM since the time they both spent as missionaries in the Diocese of Polynesia. Ian has also taken parties of boys from The King's School in Sydney on visits to the Martyrs' School in Papua New Guinea.
ABM remains eternally grateful for the hard work and sacrifice of our former missionaries.
The Coaldrake Award recognises exceptional service to God's mission. To learn more about the awards, go to https://archive.abmission.org/pages/abm-coaldrake-award.html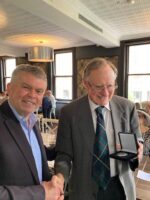 ABM's Rev'd Dr John Deane presents the award to Mr Ian Mcleod at the ceremony.