ABM Archive Website
THIS WEBSITE CONTAINS ARCHIVE MATERIALS FOR HISTORICAL REFERENCE ONLY
For up-to-date information, including our latest appeals, news, and resources, please visit our current website.
Laughing for a good cause
September 28, 2016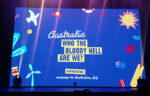 Campaign for Australian Aid's Comedy Gala
ABM attended a comedy gala organised by Campaign for Australian Aid on Thursday 22nd September at the Athenaeum Theatre in Melbourne. Theme – 'Who The Bloody Hell Are We?" – a reference to the controversial advertising campaign launched by Tourism Australia in 2007.
The event was hosted by Tom Ballard and featured some of Australia's well known comedy acts, including Tripod, Osamah Sami, Laura Davis, Busty Beatz and Randy the Puppet.
According to Campaign for Australian Aid, it was "a fresh approach to advocacy" for the campaign, using comedy to look at Australia as a nation and our place in the world.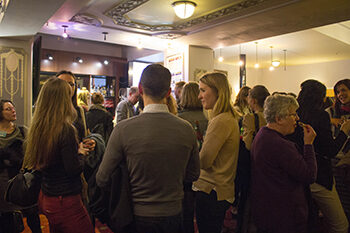 Attendees at the Campaign for Australian Aid comedy event.
Amongst the audience were representatives from the aid and development sector, volunteers, people involved with social justice movements as well as local Members of Parliament invited by audience members.
Each comedy act took aim and sent up a whole gamut of issues, especially those prevalent in today's media – refugee policy, politics, terrorism, gay marriage, racism and so on.
It was clear that quite a number of comedians spoke from their own personal experiences of encountering racism, discrimination, being treated differently but also from the perspective of being enriched through living in a diverse, multi-cultural society.
The trio, Tripod, sang about how Santa Claus can't come to Australia unless he could pledge allegiance to the Australian flag, and wouldn't be welcomed unless he dressed like us. Geraldine Hickey gave us an insight to her treatment because of her sexual identity, and Osamah Sami made fun of people's reactions to viewing Muslims as terrorists.
Busty Beatz, whose parents came from South Africa, encouraged audience participation for "cultural awareness training" with her songs 'Don't touch my hair' and 'Where are you really from?' She ended her act shouting for us to "stand up and make noise", quoting Aboriginal activist Aunty Lilla Watson's "If you have come here to help me, you are wasting your time. But if you have come because your liberation is bound up with mine, then let us work together."
At intermission members of the audience were asked to use the hashtag #WhoAreWe on all social media platforms to voice their opinions to Prime Minister Malcolm Turnbull.
It was a hilarious evening "about good and bad stuff" as Tom Ballard put it, but behind all the laughs are the big issues and questions concerning Australia's commitment to foreign aid. Campaign for Australian Aid's message to their supporters, MPs, those involved in the social justice movements, aid and development sector is for greater participation to change what is now the government's lowest investment in Australian Aid.
ABM believes that a fair contribution to global development is 70 cents from every $100 of Australia's Gross National Income (GNI). In the last four years Australian Aid has fallen to 22 cents from every $100 of GNI. Its lowest level since records began.
That's why ABM has joined the Campaign for Australian Aid.
To find out more about Campaign for Australian Aid, visit their website: australianaid.org
> Sydney Event: there will be a Campaign for Australian Aid comedy gala in Redfern on Thursday 13th October, 2016. For details visit: Who The Bloody Hell Are We? – Sydney Comedy Event