ABM Archive Website
THIS WEBSITE CONTAINS ARCHIVE MATERIALS FOR HISTORICAL REFERENCE ONLY
For up-to-date information, including our latest appeals, news, and resources, please visit our current website.
Henry Holland's portable Holy Communion Set returns to ABM: Tangible Link to WWII Martyr
New Guinea martyr Henry Holland's Holy Communion set to be returned to Papua New Guinea seventy seven years after his death.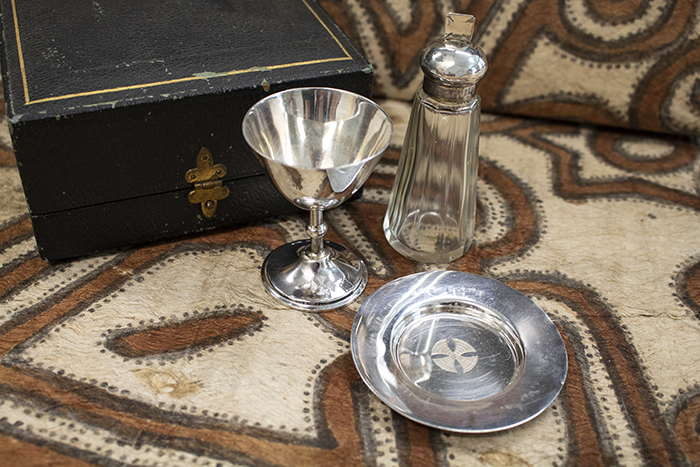 Henry Holland's Holy Communion set. © ABM, 2019.
Jonathan Holland (no relation), in his new book The Destiny and the Passion of Philip Nigel Warrington Strong, refers to Henry Holland as one of the able men in situ when Bishop Strong arrived in Papua in 1936. He says 'Henry Holland, a 57-year-old layman had done foundation work around the inland mission stations of Sangara and Isvita. Nearly thirty years earlier he had worked alongside Copland King at Ambasi on the Mamba.' (P. 142).
We are thus back within twenty years of the foundation of the mission in 1891 and the story of the Madawa Tree that sprouted from the timber cut for the structure of the first church building.
We read of Henry Holland's ordination as priest in what is probably 1937, though the date not clearly stated. Jonathan Holland writes:
'Strong ordained two Papuan men, as priest and deacon respectively, and also the layman Henry Holland, a man of a "deeply consecrated life", whose pioneer work since 1911 at Sangara and Isivita had laid the foundations for these inland stations. . . . In February 1938, Strong added to Holland's responsibilities the "cure of souls" in the Districts of Isivita and Sangara.' (pp. 182-183).
Holland met his death at the hands of the Japanese in 1942. An account is given by Jonathan Holland (p. 240).
Henry Holland's relatives want these participatory symbols and markers of a life expended in Mission returned to apt purpose in today's independent Anglican province of PNG. Seventy seven years have passed since Henry Holland's death.
The Holy Communion Set is a master symbol of sacrifice across the decades since 1911 and 1891, tangibly conveying the core sacrifice and life found in Christ. They testify to fidelity.
The lining in the box indicates that the vessels were made or supplied by Fairfax & Roberts of Sydney, jewellers in business since 1855. ABM itself was founded five years earlier.
Henry Holland would have used this small Chalice and Paten from his Ordination until just prior to his death in August 1942.
ABM expresses its thanks and gratitude to Mike de Berg for initiating this 'return'.
Henry Holland was Mike de Berg's Great Uncle and information about the Communion Set has derived from Mike's Grandfather (Henry's brother), a Methodist missionary in PNG; and from Mike's mother, Hazel de Berg MBE, an oral historian.
It is all part of the long and costly fidelity of ABM to the people of PNG.
The Revd Dr Ivan Head
Gifts in Wills Officer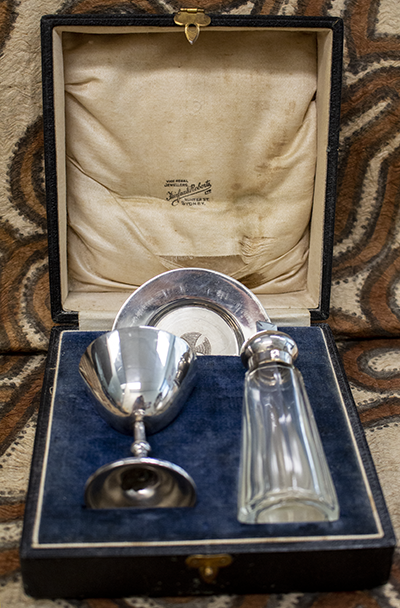 Henry Holland's Holy Communion set. © ABM, 2019.
< Back