ABM Archive Website
THIS WEBSITE CONTAINS ARCHIVE MATERIALS FOR HISTORICAL REFERENCE ONLY
For up-to-date information, including our latest appeals, news, and resources, please visit our current website.
Pilgrimage Stories
Canterbury College Students Experience Vanuatu Pilgrimage – July 2015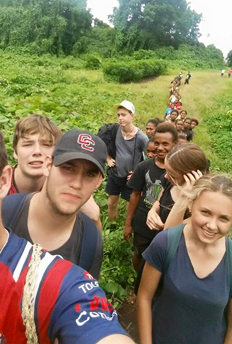 © ABM/Greg Henderson 2015
"One of the best things about our pilgrimage is that we've really had the time to bond with our friends at Losalava Secondary School in Vanuatu," says Canterbury College School Captain Luke Clipperton. "The way we've done it is so much better than a tour… it's been a life changing experience."
Living for ten days on the remote island of Gaua in northern Vanuatu certainly exceeded any expectations Canterbury College students had arrived with.
So what was it that made it so special? What makes a group of teenagers want to spend their mid-year break without the luxuries of running water, electricity and comfort food; instead embracing mosquito nets, bucket showers and roosters cock-a-doodle-doo-ing before sunrise? The answer in short – relationship & authenticity.
"To see students from both schools pick up from where they left off so quickly following last year's pilgrimage was really encouraging," said Greg Henderson (ABM) who was invited to accompany the group from Canterbury College. "There's a really strong recognition from students in both schools that they have many things to learn from each other and this is actually something that forms the basic building blocks of the relationship – mutuality and reciprocity. Every day is a reminder to the students that they share more in common with each other than not – whether they are on the sporting field or in the school garden or the classroom."
The student pilgrims were hosted by the family of the village Chief in authentic thatched bungalows and relied on an ABM funded poly-tank for drinking water in addition to using locally built V.I.P toilets on a daily basis. (see http://www.abmission.org/pages/water-and-sanitation.html for project information).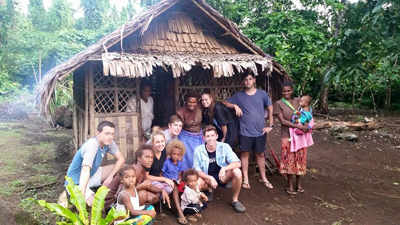 "Reality hits when pilgrims realise they need to set aside time in each day to carry water for showers and hand wash clothing at the bore pump," said Greg. "There's definitely a newfound appreciation for some of the things we take for granted at home in Australia. On a couple of occasions we had to top up our tank with water from a larger secondary tank in the village so that we had enough drinking water for the day. That's something that really highlights the challenges communities in the pacific are facing with regard to water security and the impact of climate change on these islands. The tanks will keep the water safe and secure but when there's no rain it presents a huge challenge. This means that the pilgrims get to find out first-hand how important the partnership between ABM and the Anglican Church of Melanesia really is for the local people. "
Chaplain of Losalava Secondary School Rev'd Toswald Vira remarked, "It is a privilege for us to host the Canterbury students and to share our time together as friends. Students must learn English in the classroom in Vanuatu so the visit benefits our students greatly – the story telling and games they play gives our students greater confidence to use English when they might otherwise be too shy. Likewise, we are honoured to teach our Australian friends about our many customs and traditions. It is a wonderful learning experience for all."
While at Losalava Secondary School the pilgrims spent time with local teachers who mentored them in the ways of village life and hosted them as guests in their homes for dinner one evening. "The welcome and hospitality was amazing everywhere we went," said Year 12 student Tessa Markham who was greeted with a feast and bamboo band at the home of her host. Other students commented that the love and hospitality they experienced made them feel as though they had found a second home.
Canterbury College are returning to Vanuatu once again in the mid-year break of 2016 and are currently exploring reciprocal exchange opportunities for teaching staff between the two schools.
< Back