ABM Archive Website
THIS WEBSITE CONTAINS ARCHIVE MATERIALS FOR HISTORICAL REFERENCE ONLY
For up-to-date information, including our latest appeals, news, and resources, please visit our current website.
From Missionaries to Pilgrims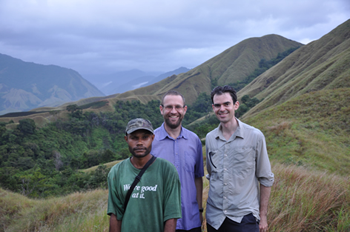 Brad Chapman (right) leads the pilgrimage in PNG.
This year, on August 10th, Anglicans in Papua New Guinea will celebrate the 119th birthday of their church. People living in the villages of Wedau and Wamira, near the place where the first Anglican missionaries from Australia came ashore, still proudly share the memories of their parents and grandparents who greeted those strange, white-skinned foreigners.
Australian priests Albert Maclaren and Copland King arrived in Bartle Bay aboard a whale boat, unsure of the reception that they would receive from the local people. 119 years on, I accompanied a group from the parish of Aspley-Albany Creek in Brisbane on a dinghy voyage that mirrored the approach to Dogura taken by Maclaren and King. Unlike those pioneer missionaries, we were aided by a 40 horse-power motor, a skilled local dinghy operator, and the certain knowledge that our coming was anticipated and welcomed by the people of Dogura and its surrounding villages.
We arrived in Dogura as 'Pilgrims' rather than 'Missionaries'. We had much to learn, many questions to ask, much to be inspired by, and time to reflect upon our own mission context from a cross-cultural perspective. As a group we were hosted by the local community and welcomed as visitors to ABM projects and Anglican Church ministries. We spent time in the local village, visited schools and churches, worshipped with the people of Wamira and tried to climb Mt Pasipasi. Each day began and ended with prayer from the PNG prayer book and reflection on different components of mission. Lack of electricity, running water, roads and mobile phones helped us to focus on the simple things of life as we journeyed together.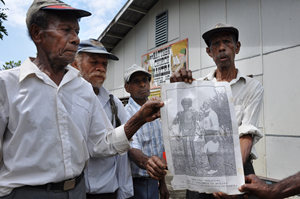 Proudly recalling the arrival of the first missionaries,
these men from Wamira hold a photograph.
Dogura is a place that speaks of the past, present and future of the Anglican Church in Papua New Guinea. Over the last century, hundreds of missionaries from Australia and other places have spent time in Dogura as they have served alongside the people of Papua New Guinea as priests, teachers, healers, builders and administrators. Each of these people proclaimed, by their work and example, the love of God and the meaning of Christianity. Today the Anglican Church in Papua New Guinea contains more priests, teachers, healers, builders and administrators than ever before. They are missionaries who continue to interpret and manifest the call of God's mission for the contemporary challenges of PNG society. The most striking difference between these new missionaries and the missionaries of one hundred years ago is that there are almost no white faces among them. The leaders of today's Anglican Church of Papua New Guinea come from the highlands, the islands and the coastal regions of their own country. They face a ministry environment which is charactarised by a young population, urban migration, the influx of Western cultural influences and disease threats from malaria, tuberculosis, and HIV and AIDS.
The last one hundred and nineteen years have held many challenges for the Anglican Church in PNG. Tropical disease almost wiped out the first Anglican presence at Dogura. Since then the church has faced world wars, natural disasters, independence and financial hardship. From each challenge, Anglicans in PNG have emerged united and resolute. They have grown in number and in strength; learned through trial and setback; and exist today as neighbour, Papua New Guinea.
The Anglican Board of Mission maintains a close relationship with our Sisters and Brothers in the Anglican Church of Papua New Guinea. In response to priorities identified by the church in PNG, ABM directs donations from Australian parishes and schools to hundreds of projects covering water and sanitation, health, education, school fees, ministry, evangelism, gender equality and theological formation. In return, the people of Papua New Guinea have much to teach to Australians. Every time I visit PNG I am impressed by the authenticity and warmth of welcome, the close support networks of village life and the sacrifice and dedication of thousands of people who love God and are serving their neighbours. Once-upon-a-time the Anglican Church in PNG was a baby church, born of the missionary endeavours of a parent church in Australia. Today, the church in Australia relates to our Brothers and Sisters in PNG as equals in a partnership of mutual benefit and respect. God calls us all to be engaged in mission, not just in our own communities, but throughout the world.
Today, Richard Rabiafi, the General Secretary of the Anglican Church of PNG is a member of ABM's Church to Church Committee. Priests from PNG regularly serve in Australian parishes under ABM's encounter program. And Australians travelling to the church in PNG are no longer regarded as missionaries but as pilgrims, journeying together with the people of God, learning and being inspired by a vibrant church in a different culture.
Brad Chapman,
ABM Education Missioner
August 2010
< Back