ABM Archive Website
THIS WEBSITE CONTAINS ARCHIVE MATERIALS FOR HISTORICAL REFERENCE ONLY
For up-to-date information, including our latest appeals, news, and resources, please visit our current website.
Pilgrim's Progress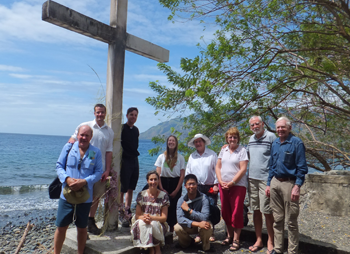 This account was written by Don Henderson who joined ABM's Modawa Pilgrimage to Papua New Guinea in August, 2013.
From August 5 to 15, I had the privilege of participating in a pilgrimage to Papua New Guinea (PNG) organised by the Anglican Board of Mission (ABM). We did not go to evangelise the local people. We did not go to build a church or paint a building. We went to learn, to enjoy Christian fellowship with people of a different culture, to listen to stories, and to tell ours. There were nine pilgrims, led by a member of the ABM staff. Our ages ranged from 17 to 80, both male and female, from various parts of Australia, and from vastly different backgrounds. Two of the pilgrims were priests.
I learnt much about other people, much about my faith, and much about myself during the ten days. The people we lived with were subsistence farmers, financially poor by our standards (or any standards), but rich in culture, spirituality and family values. I leant many lessons during the pilgrimage and would highly recommend next year's pilgrimage. This is but one of the lessons I learnt:
"We are pilgrims on a journey,
and companions on the road;
we are here to help each other
walk the mile and bear the load."
(The Servant Song)
For the majority of our pilgrimage, we stayed at Dogura in Milne Bay Province, the location of the first Anglican mission in PNG 122 years ago. For the adventurous among the pilgrims, an expedition to climb Mt Pasipasi was organised for the Friday morning. Mt Pasipasi stands 600 metres high above Dogura, and is part of the Owen Stanley Range. The idea was to start walking and climbing about 3.30am so that we could reach the peak about 6am to see the sunrise. The majority of the older pilgrims elected not to take part. There was one, however, who wasn't as wise as the others!
Even though I am 65, I consider myself to be fairly fit; I walk almost every morning on the Sunshine Coast for up to two hours; I thought a two and a half hour climb would be well within my capability – and so it proved to be! My success in making it to the top gave me some pride.
Admittedly I was last to get to the top, well after the four grade 7 girls from Dogura primary school who accompanied us, climbing in bare feet and getting first to the top; well after Father Martin, the Dean of the Cathedral at Dogura (and a man from the mountains); well after the younger pilgrims.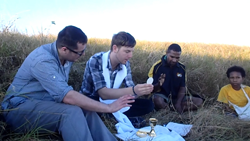 Con-celebrating on Mt Pasipasi.
We celebrated a Eucharist at the top of Mt Pasipasi as the sun came up. It was a wonderful service with Fr Martin con-celebrating with the two Australian pilgrim priests.
Then it was time to come back down from our mountain high. I found out fairly quickly that my pride in making it to the top was to be short-lived. Pride is not a Christian virtue, and my pride was soon to be replaced by a lesson in humility. You see, my knees were now feeling very weak, my legs had stiffened up, and there was no way I was going to make it down again in my own strength. Part of the track down was quite steep and I was not going to make it down on my own.
Our guides Wopa and his friend, and Fr Martin, all helped me down. I came down from the mountain holding hands with the two men from Dogura, keeping me upright in some difficult stretches, and encouraging me when the going got tough. It took several hours to reach the bottom, and the climb down holding hands gave Wopa and me the chance to talk – about our lives and the challenges of operating outside of our comfort zone. I talked about my life and its challenges and so did Wopa. In my life, I am used to being competent, in control, and relatively independent. Needing help well outside my comfort zone and totally reliant on the help of fellow "companions on the road" taught me a vital lesson in humility and acceptance.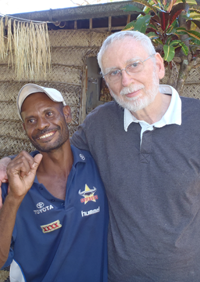 Wopa and Don.
It also added meaning to the last lines of "The servant song" which says "pray that I may have the grace to let you be my servant too". Wopa and I caught up a number of times at Dogura after that experience, and each time, greeted each other with a brotherly embrace.
I learnt a lot that day. I see my experience that day as a parable for our lives as Christians with the challenges, the failures, the vulnerabilities, and the helping hand from our brothers and sisters when we are in need. Thank-you Wopa for the lesson you taught me.
Don Henderson
Kawana Waters Parish
August 2013
< Back