ABM Archive Website
THIS WEBSITE CONTAINS ARCHIVE MATERIALS FOR HISTORICAL REFERENCE ONLY
For up-to-date information, including our latest appeals, news, and resources, please visit our current website.
Sharing the Good News of the Church with the Youth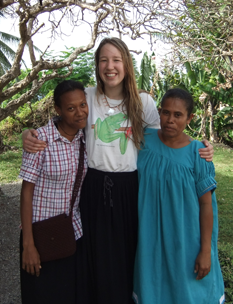 Rowena and Sunday School teachers
at St Matthew's,Wamira.
A new youth ambassador for Tasmania has been appointed through ABM's local Diocesan networks to share the work of the church and its partners with young people in Australia.
Rowena Clark-Hansen, a Year 12 student from Hobart, is the recipient of the inaugural award and has just returned from Papua New Guinea where she was part of the Modawa Pilgrimage with ABM to learn more about the work and experience some of the projects for herself.
"It was an amazing trip," she said. "It was great to meet all the people and even though Australia and PNG are so different I could see God was in all of us."
"The trip was also challenging, I enjoyed discovering more about how nations develop and how best to handle development in places in PNG."
After her examinations in November and in to the new year, Rowena will visit parishes and schools in Tasmania to talk about her visit and the work of ABM.
The message she'll be bringing home to other young people is that partnership is the key to working with churches in other countries.
"I learnt a lot about ABM and the partnerships they have are so strong. It's not about the Australian church fostering other churches. They work closely together and strengthen things. It's a hand up not a hand out – that's important," she said.
Rowena is looking forward to talking to people of all ages, across Tasmania to share her experiences.
"I think it's important to talk to young people, who have influence but I want to talk to everyone," she said.
"I feel really blessed to have been on the pilgrimage and also I hope to bring some youth energy to the church."
The ABM Modawa Pilgrimage is a unique opportunity to undertake a journey of reflection and Meagan Morrison, PNG Partner Liaison from ABM who led the pilgrimage, said this year was a great success.
"It really challenged people, they were taken out of the ordinary and experienced challenges of remote living."
"The diverse group of pilgrims, nine Australian Anglicans from seven Dioceses ranging in age from 17 to 80, were taken out of their comfort zones and we were forced to slow down and retreat from our usual constant society. The group really got to see some of the challenges of the church in PNG too."
The pilgrimage gave participants opportunity to witness mission in action and learn from members of the Anglican family in another part of the world.
Starting in Port Moresby there was the chance to meet local Anglican clergy before flying to Alotau and crossing the Owen Stanley Range by truck, then journeying to Dogura by dinghy. Dogura is the site of the first Anglican Church in Papua New Guinea and is the centre of a vibrant and loving church and community.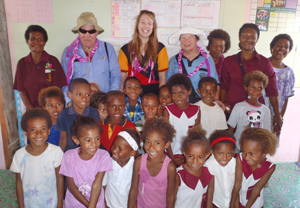 John, Rowena and Felicity with Elementary Prep
teachers and students at Christ the King School,
Orobada, Port Moresby.
On the Dogura plateau, visits were made to Anglican schools, the health centre and the Cathedral. A very early morning climb up Mount Pasipasi was rewarded by spectacular views over Bartle Bay.
Meagan Morrison said, "All the pilgrims could see that the church in PNG is struggling in similar ways to Australia but for Rowena in particular I saw she enjoyed the connection with people and seeing the real complexity of what people in PNG face."
"It was a real credit to her own spirit that she learnt from the other pilgrims and the experiences we faced," she said.
"ABM sees the pilgrimage as a journey of both seeing new things and seeing things in a new light."