ABM Archive Website
THIS WEBSITE CONTAINS ARCHIVE MATERIALS FOR HISTORICAL REFERENCE ONLY
For up-to-date information, including our latest appeals, news, and resources, please visit our current website.
Manaro Volcano on Ambae Island, Vanuatu, causes mass evacuation again
May 4, 2018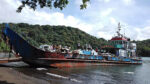 In Vanuatu, the Manaro Volcano is once again threatening to devastate the island of Ambae.
Following eruptions in 2017, the volcano is again showing heightened activity. In April 2018, the Vanuatu Government ordered another complete evacuation of the island's 10,000 people. And this time, plans are being made for permanent resettlement on other islands.
ABM's partner in Vanuatu, the Anglican Church of Melanesia (ACOM), helped with relief and counselling for evacuees in 2017. ACOM is now planning to assist with the new evacuation of Ambae Island. Some of the strengths of ACOM's assistance are its involvement of women in consultation and decision-making, its work with water and sanitation, and its broad network of volunteers at ground level.
With the evacuations underway, our prayers are with ACOM and the people of Ambae Island.
For your prayers
Be with the people of Ambae, O Lord, as they leave their homes in search of safety. May your Spirit inspire and encourage them to put their hope in you as they leave their old lives, filled with certainties, for an unknown and indefinite future. May they continue day by day, knowing that you are with them wherever they go, the same God today, yesterday and tomorrow. This we ask through Jesus Christ our Lord. Amen.