ABM Archive Website
THIS WEBSITE CONTAINS ARCHIVE MATERIALS FOR HISTORICAL REFERENCE ONLY
For up-to-date information, including our latest appeals, news, and resources, please visit our current website.
Meet our newest volunteer
September 28, 2016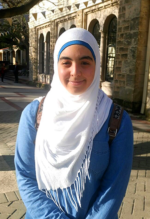 ABM is pleased to introduce our newest volunteer, Amira Allahham.
Amira is volunteering with ABM as an Arabic translator, assisting with documents sent by our partner in Gaza, the Al Ahli Hospital. ABM is currently supporting a project implemented by Ahli Hospital, targeting child malnutrition and chronic illness in the poorest communities of Gaza city.
As part of the regular monitoring work of ABM-funded projects, our partners are required to provide documentation relating to a number of compliance issues. One of these is a Child Protection Policy, which details the specific steps taken by the partner to protect the most vulnerable members of the community, ensuring that all risks surrounding project work have been considered and mitigated.
Being a Child Nutrition project, the Ahli Hospital submitted their Child Protection Policy to ABM, showing how the physical, emotional and mental wellbeing of children within the project would be maintained and enhanced. However, due to a shortage of translation staff within the Ahli Hospital, the policy was unable to be translated from Arabic into English before being sent to ABM.
Enter Amira Allahham!
Amira is a first-year undergraduate student at the University of Western Australia (UWA), in Perth. She is currently studying neuroscience, and would like to go on to study medicine after she graduates.
The opportunity to volunteer with ABM came quite coincidentally, through a last-minute decision to visit the Guild Volunteering UWA program office after lectures one day. The guild aims to put UWA students in touch with community needs, and is coordinated by our very own Claire Duffy, Deputy Chair of the ABM Board and Chair of the Development Committee. After receiving the request from ABM for a translator, Claire was able to offer the work to Amira, who enthusiastically accepted.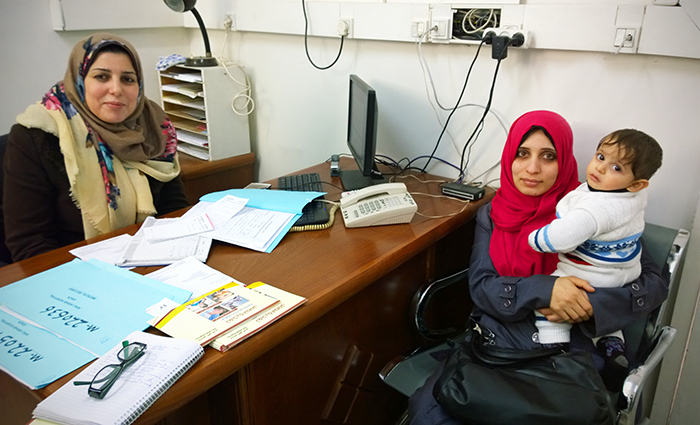 Ahli Hospital Nutritionist meets with recipients of the Child Nutrition program. © Julianne Stewart/ABM 2016
The chance to assist the victims of war and poverty in the troubled Middle East is close to Amira's heart. Having been born in Palestine and spending 12 years in Jordan before coming to Australia, she has a deep empathy for those struggling with conflict on a daily basis. When asked about her future, Amira replies:
"I plan to finish my degree in neuroscience and hopefully get into medicine. I also plan to continue volunteering for different projects and wherever I'm needed. A group of friends, including myself, are planning to start a mini charity fundraiser to help victims of war."
We would like to heartily thank Amira for her willingness to assist ABM, kindly volunteering her time and skills to contribute to the good work being done through the Child Nutrition project in Gaza.