ABM Archive Website
THIS WEBSITE CONTAINS ARCHIVE MATERIALS FOR HISTORICAL REFERENCE ONLY
For up-to-date information, including our latest appeals, news, and resources, please visit our current website.
Memorial service for Marjorie Wall
October 28, 2015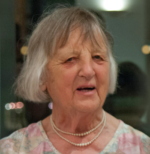 ABM is saddened by the news that Marjorie Wall, a life member of the ABM Tasmania Auxiliary, has passed away a few weeks short of her 90th birthday.
Marjorie Wall was a stalwart of St James New Town congregation and was heavily involved with their ABM Committee and other church committees.
Father Warwick Cuthbertson, former ABM Tasmania Committee Chair, recalls, "Marj was a great supporter of ABM and St James. Any job that needed doing in the parish Marj was there.
"I remember when her husband was knocked down by a bus. He was unconscious for some weeks and Marj went to the hospital daily and played recordings of birds to him and massaged him. He eventually made an amazing recovery. Marj was loyal and always full of affirmation.
"Her 90th birthday was to be on the 17th October on which she planned to be in charge of the handcraft stall at the parish fair. It was unfortunate she did not quite make it."
There will be a memorial service at St James New Town on Saturday 7th November at 11.30 am.
We give thanks to God for Marjorie's loyal support of ABM, and for her service to her parish and community. May she rest in peace and rise in glory.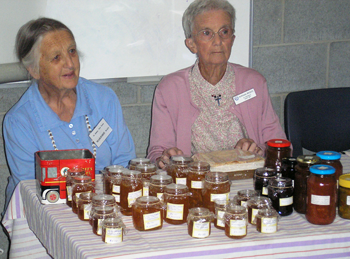 Marjorie Wall with Barbara Briggs, former National President
of the ABM Auxiliary, at a fundraising luncheon for ABM in
2010. © Tim Swifte