ABM Archive Website
THIS WEBSITE CONTAINS ARCHIVE MATERIALS FOR HISTORICAL REFERENCE ONLY
For up-to-date information, including our latest appeals, news, and resources, please visit our current website.
Myanmar State of Emergency
February 2, 2021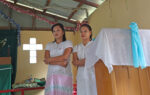 ABM has been extremely saddened and concerned to receive the news reported by the ABC of a military coup in Myanmar.
As the recently-elected parliament of Myanmar was due to sit for the first time, the country's military seized power, detaining Aung San Suu Kyi and other civilian leaders.
https://www.abc.net.au/news/2021-02-01/myanmar-leader-aung-san-suu-kyi-detained-ruling-party-says/13108204
For almost 50 years, ABM has partnered with the Church of the Province of Myanmar and supports Church-based initiatives as well as community development projects throughout the country designed to help people irrespective of their ethnicity or religious affiliation.
Please join us in praying for the people of Myanmar.
A Prayer for Myanmar
Give peace in our time, O Lord.
Send your Spirit, O Lord,
To the people of Myanmar,
That no matter what their ethnic background,
Their religion, their job or their status,
Calm heads may prevail
During this time of tension
And peace win the day.
Grant wisdom and insight to the leaders
That they may see the common bond
That makes us all your children
And sisters and brothers to one another.
In order that all that is done be for the common good,
We pray, Lord,
That you set the feet of all to walk the way of respectful and nonviolent dialogue,
And make the hands of all to labour towards constructive cooperation.
We pray especially for Archbishop Stephen
And the bishops and priests of the Church of the Province of Myanmar,
As they guide at this time the people you have given them.
May your Church be a blessing to the people of Myanmar.
All this we ask in the name of your Son,
Jesus Christ, the Prince of Peace,
Who bids us not to be afraid,
And who lives and reigns with you and the Holy Spirit,
One God, world without end. Amen.