ABM Archive Website
THIS WEBSITE CONTAINS ARCHIVE MATERIALS FOR HISTORICAL REFERENCE ONLY
For up-to-date information, including our latest appeals, news, and resources, please visit our current website.
NAIDOC WEEK 6 – 13 JULY 2014
July 4, 2014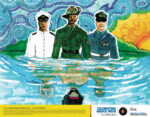 NAIDOC Week is celebrated around Australia from 6-13 July each year. It's a time to celebrate the history, culture and achievements of Aboriginal and Torres Strait Islander peoples. 
The National NAIDOC theme for 2014 is Serving Country: Centenary & Beyond.
This year's NAIDOC theme honours all Aboriginal and Torres Strait Islander men and women who have fought in defence of country.
From our warriors in the Frontier Wars to our warriors who have served with honour and pride in Australia's military conflicts and engagements across the globe.
We proudly highlight and recognise the role they have played in shaping our identity and pause to reflect on their sacrifice. We celebrate and honour their priceless contribution to our nation.
(The above is from the NAIDOC website http://www.naidoc.org.au/)
ABM encourages you to take part in these celebrations and to pray for our brothers and sisters who are being honoured during this week.