ABM Archive Website
THIS WEBSITE CONTAINS ARCHIVE MATERIALS FOR HISTORICAL REFERENCE ONLY
For up-to-date information, including our latest appeals, news, and resources, please visit our current website.
NATIONAL ABORIGINAL BISHOP TO BE DEAN OF ADELAIDE CATHEDRAL
August 10, 2021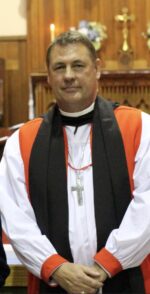 ABM was delighted to learn this week of the appointment of National Aboriginal Bishop, Chris McLeod, as Dean of St Peter's Cathedral, Adelaide. As National Aboriginal Bishop, Chris is responsible for developing and overseeing ministry among Aboriginal people.
(The following is from St Peter's Cathedral Facebook page)
"The Cathedral Nomination Committee is delighted to announce that the Archbishop of Adelaide has appointed the Right Rev'd Chris McLeod to be the next Dean of St Peter's Cathedral.
Bishop McLeod is of Gurindji descent and has been involved in ministry among and beside Aboriginal people in Anglican orders for more than 20 years. He will become the first indigenous person to hold the position.
Currently Assistant Bishop of Adelaide, National Aboriginal Bishop and Priest-in-Charge in the Parish of Woodville, Bishop McLeod will continue his episcopal ministry as National Aboriginal Bishop alongside his work at St Peter's Cathedral.
An installation date will be confirmed in the coming weeks."