ABM Archive Website
THIS WEBSITE CONTAINS ARCHIVE MATERIALS FOR HISTORICAL REFERENCE ONLY
For up-to-date information, including our latest appeals, news, and resources, please visit our current website.
NATSIAC Pop-up Art Exhibition – General Synod
August 10, 2017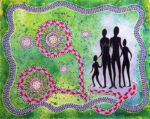 This year NATSIAC is running a pop-up art exhibition at General Synod. The aim of the project is to:
Raise awareness of NATSIAC as the prime advisory body on Indigenous issues in the Australian Anglican Church.
Profile the individual NATSIAC members and the important and varied ministries they conduct on a daily basis.
Raise much needed funds for NATSIAC.
If you are attending General Synod this year please keep an eye out for the NATSIAC art exhibition and consider how you can support NATSIAC.
Learn more about NATSIAC here: http://www.natsiac.com/

Artworks by the Revd Robyn Davis, used with artist's permission.