ABM Archive Website
THIS WEBSITE CONTAINS ARCHIVE MATERIALS FOR HISTORICAL REFERENCE ONLY
For up-to-date information, including our latest appeals, news, and resources, please visit our current website.
New Anglican Communion video highlights need for Christians to live out their faith
October 23, 2015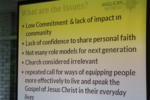 [ACNS] The Anglican Witness initiative, coordinated by the Anglican Communion Office, has produced a new video, Being a Christian in everyday life, to highlight current issues in churches in the Global South and North, with a view to a possible Communion-wide response through a focus on discipleship or Christian living.
In the video, Anglican Communion mission leaders and practitioners note challenges such as a failure to connect faith and professional life, a lack of confidence to share personal faith and pass it on to the next generation, low commitment, impact on community, and a decline in church membership.
"Many youths feel the Church does not respond to their needs so when they go out they find other agencies that seem to warm up to who they are," says the Revd Robert Sihubwa, a youth pastor in the diocese of Lusaka in Zambia.
Read the full article and watch the video on the Anglican Communion News Service website: http://www.anglicannews.org/news/2015/10/new-anglican-communion-video-highlights-need-for-christians-to-live-out-their-faith.aspx
And also, posted by Anglican Communion News Service on 4 November, 2015:
Anglican Consultative Council theme highlights current mission challenges