Congratulations to our former board member, Bishop John Roundhill, on his consecration to the episcopate. John is the bishop responsible for the southern region of the Diocese of Brisbane.
[Article from the Anglican Church Southern Queensland website – April 16, 2018]
New Anglican Bishop consecrated for southern region
The Anglican Church in Southern Queensland has welcomed a new Bishop following the consecration of John Roundhill as the Bishop for the Southern Region.
Bishop Roundhill was consecrated in a ceremony at St John's Cathedral today, celebrated by the Archbishop of Brisbane, The Most Reverend Dr Phillip Aspinall.
The Southern Region covers the southern metropolitan area of Brisbane, and also stretches south to the Gold Coast and west to Mount Tamborine.
Bishop Roundhill said he was delighted to be returning to Brisbane and Southern Queensland after spending six years as Dean of St Paul's Cathedral in Bendigo, Victoria. He succeeds Bishop Alison Taylor who has recently retired.
Archbishop Aspinall said Bishop Roundhill had vast experience in parish, school and international ministry having worked in a parish in England, as a school chaplain in Scotland, and as Sub-Dean of St John's Cathedral in Hong Kong.
He then further served in Brisbane as Rector of Aspley-Albany Creek, and as an Area Dean and then Archdeacon.
"John is committed to the mission of God and in seeing that mission expressed in contemporary ways," said Archbishop Aspinall.
"I am confident that John will exercise wise and energetic ministry, collaborating with the diversity of clergy and lay people who contribute to our life together in Christ."
The Archbishop and Bishop Roundhill were joined at today's consecration by members of the clergy from Southern Queensland. Other active and retired Bishops from around Australia joined in the laying on of hands.
While looking to the future of his tenure in Brisbane, Bishop Roundhill also reflected on his many proud achievements in Bendigo, most notably the restoration of St Paul's Cathedral. Restoration which cost $2 million and took seven years. The Cathedral was finally reopened in 2016.
"I return to Brisbane as a different, more faithful person, having worked at discovering a better pattern for my own faith life. This enables me to better serve the community, parishes and the Diocese," he said.
"Having worked in a regional Diocese like Bendigo I am also acutely aware of the stresses and strains of parish life for our clergy. Priests are challenged daily in their ministry, especially in the aftermath of the Royal Commission into Sexual Abuse.
"We are in the faith business and the currency that we use is trust. We have had an unbelievable breach of trust with the community and we must rebuild that trust, starting from the ground up and by being more transparent and open."
Bishop Roundhill has a keen interest in social justice and it was that passion that saw him arrested in Bendigo in 2014. He was involved in a protest with a local advocacy movement, campaigning for better treatment of refugees.
Charges of trespassing were brought against the then-Dean Roundhill and other protesters, after they occupied the office of local Senator Bridget McKenzie. The charges were later dismissed in court.
Bishop Roundhill is also a passionate long distance runner. He runs up to five days each week and credits his return to running with helping him to rediscover his own spiritual identity. His spirit of adventure isn't limited to terra firma – at one stage he also took flying lessons in Bendigo.
Bishop Roundhill was recently a member of the National Board of the Anglican Board of Mission. (ABM). He is married to Frances Thompson and they have two adult children, Toby (aged 20) and Alice (aged 19).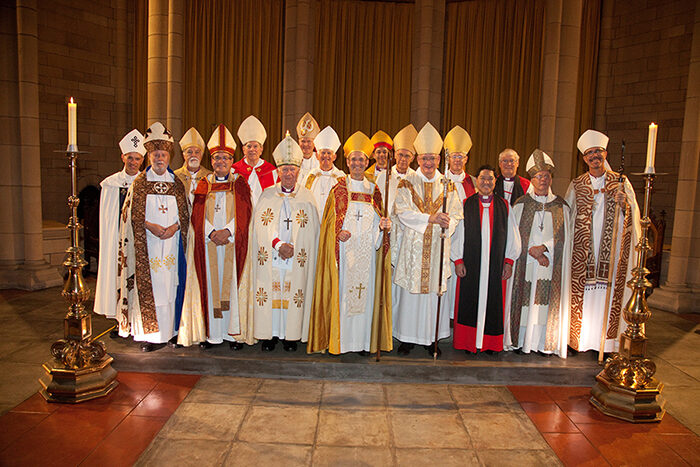 Consecration of Bishop John Roundhill. ©Anglican Church Southern Queensland.