ABM Archive Website
THIS WEBSITE CONTAINS ARCHIVE MATERIALS FOR HISTORICAL REFERENCE ONLY
For up-to-date information, including our latest appeals, news, and resources, please visit our current website.
NEW CHAIR OF THE ABM BOARD
December 2, 2020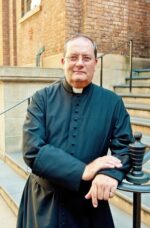 INTERVIEW WITH THE REVEREND ANDREW SEMPELL, INCOMING CHAIR OF THE ABM BOARD
Fr Andrew Sempell has recently been appointed Chair of the ABM Board, replacing Bishop Garry Weatherill who retired from the role after serving two three-year terms. Andrew has been a Director on the ABM Board since 2019. He has worked in the dioceses of Armidale, Grafton, and Bathurst before taking up his present position as Rector of St James', King Street, Sydney. He has also worked in a variety of capacities in military chaplaincy, including four months as part of the Peace Monitoring Group in Bougainville in 1999. He is married to Rosemary, Archivist at the New South Wales Parliament, and they have an adult daughter, Kate.
Fr Andrew was interviewed by ABM's Dr Julianne Stewart, who is also a one-time parishioner at St James'.
Fr Andrew Sempell, ABM's new Board Chair, is Rector of St James, King Street, Sydney. © Fr Andrew Sempell.
What qualities do you think will make you a good Chair of the ABM Board?
I have governance experience in the church and elsewhere. I am interested in overseeing the operations of ABM, but particularly in looking at the strategic visioning. It's important to keep focussed on the big picture. ABM has competent, committed staff who make things happen, but it's the Board's job to determine the priorities and to ensure ABM has the resources to fund its priorities.
What led you to take on this role?
It really emerged out of my context, especially the existing connection between St James' and ABM. And Bishop Garry Weatherill convinced me to do it! For me it is an opportunity to reflect on the mission of the Anglican church, and what is God's mission in the world today. I feel we (the Anglican Church) have been far too institutionally bound, even self-focussed and self-serving. We seem frightened, wanting to control things. But, of course, this achieves the opposite of what the church might want.
What will be your main tasks?
Strategic visioning, and addressing what I see as the church's crisis in the wider world, in an open and honest way.
Do you have a particular vision for ABM?
Our focus on the Five Marks of Mission has been good. I've even convinced St James' to embody these. The Five Marks are common sense really. I think ABM could model for the church a new way of understanding and doing mission. We could be a catalyst for change in the broader church which is currently marginalised and largely disengaged from Australian society. I see ABM doing some of this engagement work for both the church, and for the common good.
What do you see as the particular strengths of ABM?
ABM's partnerships are a key strength. We work with others to achieve mutually agreed outcomes for the common good. We can model the importance of respectful relationships to the wider church. Sadly, much of the church has cast aside relationships for the sake of doctrinal correctness and purity. ABM models the concept of the church as family. A family we are "stuck with" in all its loving and unloving, rich and poor, functional and dysfunctional ways. It is our shared experiences of life in this family that binds us together. We can't walk away from each other, and we shouldn't try to exclude people. Relationships are risky to establish and you can't control them. We need to take these risks. We need to remember that we are all in the process of becoming what God is calling us to be. So, ABM's engagement with its partners is always a work "in progress".
What are ABM's main challenges?
One of ABM's main challenges is the increasing marginalisation of the Anglican church in our society. This impacts on the amount of support the church is able to provide to ABM. The most obvious aspect of this is financial support.
ABM is very locked into government policy right now, since we accept funds from the government. This is both a strength and a vulnerability, since government policy can change very quickly. Our current work in applying for Public Benevolent Institution (PBI) status is one strategy for addressing our vulnerability in this area. [With PBI status, ABM can receive tax-deductible donations for work in Australia, responding to humanitarian emergencies that occur here, such as bushfires and floods. This will enable ABM to diversify and build on the strengths of its existing work in responding to disasters overseas.]
ABM's aging demographic makes it difficult for many very loyal supporters to continue to give their time and energies to ABM's activities. We need to encourage a younger generation of supporters who see the work of mission as a challenge. It's encouraging to see how many young people have such a positive view of social justice. But, sadly, many young people don't see the church as part of any social justice work.
Mission should be seen as something which is done for the common good. It should be transparent, honest and accountable.
How do you envisage helping ABM to meet those challenges in your new role?
It's key that we understand what mission is, and that we reinterpret mission more broadly for the wider church. Our concept of mission must incorporate diversity, much like a healthy ecosystem does. Mission must have a capacity to change over time, just as species evolve biologically. ABM has a role to help the institutional church overcome its crisis of adaptation to a changing world.
What aspects of mission would you like to explore further as Chair of ABM?
I'd like to explore three main theological aspects in the context of mission:
God and the Creation. What does this mean for our relationships, both human and theological?
Covenant. I'd like us to recover the concept of covenant, what binds us together. In developing a statement of what binds us together, it will be important to avoid the usual human power plays. God seeks out a relationship with people, not power plays. The Gospel of Christ provides a model of how we can relate to each other.
Koinonia or community. This is about justice and the need to acknowledge God, acknowledge one another, and acknowledge the environment. How do we show hospitality in the context of this kind of acknowledgement?
I'm fascinated by the idea of God's mission, and how we discern this for the church's engagement with the world.
Thank you, Father Andrew. ABM looks forward to this exciting new phase in its long history.