ABM Archive Website
THIS WEBSITE CONTAINS ARCHIVE MATERIALS FOR HISTORICAL REFERENCE ONLY
For up-to-date information, including our latest appeals, news, and resources, please visit our current website.
New Primate for Church of Pakistan
May 25, 2017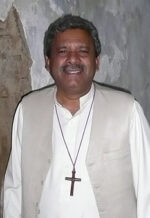 It has been announced that the Right Reverend Humphrey Peters, Bishop of Peshawar, has been elected as the new primate and moderator of the Church of Pakistan. He succeeds the Most Reverend Samuel Azariah, Bishop of Raiwind.
The Church of Pakistan was formed in 1970, as a union of Anglicans, Methodists, Presbyterians and Lutherans and has 8 dioceses.
ABM warmly congratulates Bishop Humphrey on his appointment as primate.
In 2010, ABM supporters helped to raise $154,056 towards emergency relief for the Diocese of Peshawar which was badly affected by the worst floods in Pakistan's history. Funds were used to supply aid such as food, clean water, shelter and medicine to those in greatest need, regardless of religion or membership of any group.