ABM Archive Website
THIS WEBSITE CONTAINS ARCHIVE MATERIALS FOR HISTORICAL REFERENCE ONLY
For up-to-date information, including our latest appeals, news, and resources, please visit our current website.
New Primate for the Anglican Church of Melanesia
April 15, 2016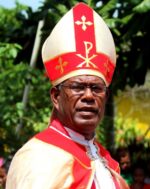 The Right Reverend George Takeli, currently the Bishop of the Diocese of Temotu, will be enthroned as the new Primate of the Anglican Church of Melanesia (ACOM) this Sunday 17th April, 2016. The event will take place at the Saint Barnabas Provincial Cathedral in Honiara in the Solomon Islands. The former primate, Archbishop David Vunagi, retired in September 2015.
Several delegates from the Anglican Church of Australia will be in attendance including ABM's Executive Director the Rev John Deane, ABM Programs Director Dr Julianne Stewart, Bishop Peter Tasker, Bishop Greg Thompson and the Very Rev Dr Keith Joseph.
The Australian Primate, Archbishop Philip Freier is currently in Zambia for the Anglican Consultative Council meeting so is unable to attend.
Reflecting on ABM's partnership with the Church of Melanesia, Mr Deane said, "ABM's connection with the Anglican Church of Melanesia goes back to 1850. One of the main reasons we were established was the provision of the boat which was to enable the mission to the Solomon Islands and the northern part of Vanuatu. It's a long connection between ABM and ACOM which has seen that Church develop into a fully independent Church."
"We look back with a lot of thanksgiving for the way God has obviously blessed the Church in that area. We've had a good relationship with Archbishop David and it would be good to begin to build a new relationship with the primate who is about to be installed. We look forward to finding new and creative ways in working with the Church there."
Please pray for the Archbishop elect and his family as he prepares to take on this important role in the Anglican Church of Melanesia.
Image © ACOM Media.
Related article: http://www.abmission.org/news.php/292/new-archbishop-enthroned-for-church-of-melanesia