ABM Archive Website
THIS WEBSITE CONTAINS ARCHIVE MATERIALS FOR HISTORICAL REFERENCE ONLY
For up-to-date information, including our latest appeals, news, and resources, please visit our current website.
News from Primate of the Province of Jerusalem and the Middle East
August 5, 2014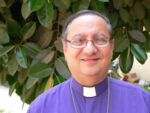 Posted in the May-July Diocesan Newsletter by the Most Revd Dr Mouneer Hanna Anis, Diocesan Bishop of the Diocese of Egypt with North Africa and the Horn of Africa, and the Primate of the Province of Jerusalem and the Middle East.
My dear friends,
The Middle East is groaning. You hear about what is happening in Iraq and the many Christians who are being forced to leave their homes and also those who were killed by ISIS (Daash). Over 1,500 have been killed in Gaza and 8,000 were injured in the recent days because of the fighting between Israel and Hamas. Syria is suffering greatly, and we are receiving many Syrian refugees here in Egypt. Libya is struggling with tribal wars and conflicts, and Christ the King Anglican Church in Tripoli is in the midst of this. South Sudan is torn again by fighting and hundreds of thousands are fleeing to neighboring countries, including Ethiopia. Here in Egypt, every other day we hear about a violent and terrorist attack, especially in the Sinai where military and police officers are targeted. What a region, full of flames and blood.
In the midst of all this, many people are saying "Where are you, God? Why are you allowing this to happen to your people?" It reminds me with the cries of King David in Psalm 77 when he said, "Will the Lord cast off forever? And will He be favorable no more? Has His mercy ceased forever? Has His promise failed forevermore? Has God forgotten to be gracious? Has He in anger shut up His tender mercies?" We find the answer to all these questions in the same Psalm, "I will remember the works of the Lord; Surely I will remember Your wonders of old."
Indeed, we need to think of how God was faithful to his church in this region in the last 2,000 years. Just as the blood of the martyrs became the seeds of many churches throughout this region, we trust that this current turmoil will turn into something good. We don't understand now, but one day we or the next generation will.
We don't have any way to heal the situation, except by prayer. One of the good outcomes of this very difficult time for Christians in the Middle East is that last week all churches in Egypt gathered together in the Coptic Orthodox Cathedral to pray. This was a very special time and we felt united in Christ through prayer. We prayed for our fellow Christians and Muslims throughout the region, and we remembered what King Jehoshaphat said in 2 Chronicles 20: "For we have no power against this great multitude that is coming against us; nor do we know what to do, but our eyes are upon You." We also remembered the words of St. Peter "Beloved, do not think it strange concerning the fiery trial which is to try you, as though some strange thing happened to you; but rejoice to the extent that you partake of Christ's sufferings, that when His glory is revealed, you may also be glad with exceeding joy" (1 Peter 4).
Do pray for peace in our region and grace for us.
+Mouneer