ABM Archive Website
THIS WEBSITE CONTAINS ARCHIVE MATERIALS FOR HISTORICAL REFERENCE ONLY
For up-to-date information, including our latest appeals, news, and resources, please visit our current website.
News from the Democratic Republic of Congo (DRC)
June 2, 2015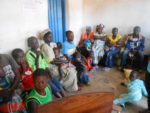 Update for Congo Emergency Response
Episcopal Relief and Development (ERD) have reported that, through working with Service Medical/PEAC in the Democratic Republic of Congo (DRC), further humanitarian relief activities were implemented in February 2015 in the Diocese of North-Kivu. Approximately 1,265 individuals have been directly assisted, with a total number of 3,100 individuals indirectly assisted.
Some of these activities included the identification and registration of the target Internally Displaced People (IDPs), purchase and distribution of relief kits, and reporting/monitoring/evaluation of activities. Medical kits containing treatments for malaria, parasites and colds were distributed. IDP households received food packages, each containing 25kgs maize flour, 5 litres cooking oil, 10kgs beans and 2.5kgs salt.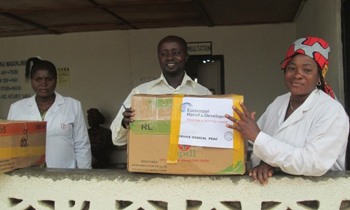 Many of the IDPs fled the violence around Beni Town in the North Kivu Province, Diocese of North–Kivu where more than 260 civilians were killed in violent attacks which occurred over the October-December period in 2014.
ABM responded to the emergency by sending $5,000 via Episcopal Relief and Development to provide emergency relief to the thousands of IDPs fleeing the region.
With this latest humanitarian assistance, one of the beneficiaries, Mrs Kahambu Rumaliza from a village called Samboko said, "Thank you Lord for sending ERD to comfort the broken hearts. Your assistance has created a new face of smile after tears and lack of hope for the future…"
Dr Raymond, the Service Medical/PEAC Coordinator, also expressed his gratitude: "… Service Medical PEAC together with the entire population of the eastern DRC appreciates the support given to IDPs in the North Kivu Province, Diocese of North-Kivu. The assistance came to the needy at the right time. We hope that ERD will continue advocating for the region that is always crippled by endless conflicts."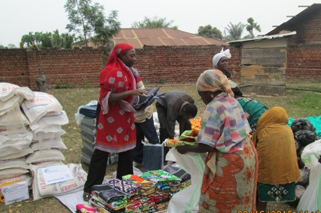 This week ABM received another report from Bishop Muhindo Isesomo, expressing his gratitude on behalf of the diocese and asking for continued prayers. According to the report, relief aid was given to 40 households, which included 15 Mbau Anglican Bible School students, who had fled from Mbau where massacres took place.
One of them, Mr Itendey Angimawa, said, "Glory is to God. We do not have words to express our gratitude towards the assistance just received. The relief kit just opened up our hearts and has given us a chance to smile after being affected by instable socio political unrest in the Archdeaconry of Oicha, Oicha Town."
ABM thanks all of our generous supporters who enable us to help people in times of crisis and to assist our partners to respond effectively to emergencies.